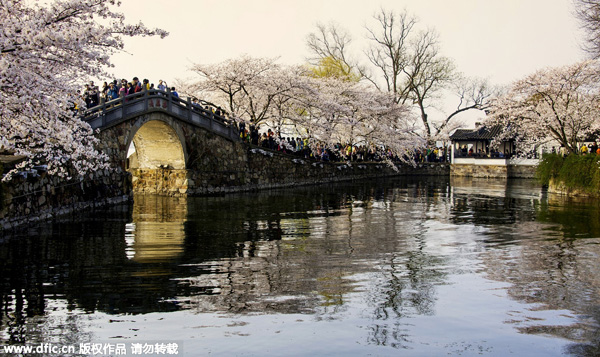 A scenic area with cherry blossom in Wuxi city, East China's Jiangsu province, March 28, 2015. [Photo/IC]
BEIJING -- Chinese businessmen and botanic experts have called on the nation to explore the economic potential of its widely-grown flowering cherry trees.
The plant, which was believed to be native to China's Himalayan region, has brought enormous tourism income to countries such as Japan and Republic of Korea. But in China, the cherry blossom economy has yet to bloom in full.
"Compared with Japan, China's cherry blossom economy still has huge potential," said He Zongru, chairman of the China Cherry Industry Association, an NGO committed to developing the country's cherry blossom-related business.
He said few Chinese know the fact that the cherry blossom originated in their own country instead of Japan, where the pink flower has become a national icon.
"That incorrect perception is hindering the cultivation of more flowering cherry trees," he said, adding lack of cherry blossom researchers are another hinderance.
Relations between China and Japan have been strained over historical and territorial issues. Chinese treat the beautiful cherry blossom, which is widely viewed as a Japanese plant, with mixed feelings.
Zhang Zuoshuang, an official with the Botanical Society of China, said the country's history of cherry tree cultivation could date back to around 2,000 years ago
"The fact that the cherry trees were first imported from China has even been recognized by an authoritative Japanese cherry blossom book," he added.
Many of the 150 different types of wild cherry blossoms around the world can be found in China, he said. Cities like central China's Wuhan, northeast China's Dalian and Nanjing in east China are famous for their cherry blossoms in Spring.
In a country that boasts the world's largest number of flowering cherry trees, the economic benefit that comes with the plant is comparatively small.
Statistics show that in 2014, China's cherry blossom tourism raked in slightly more than 15 billion yuan ($2.4 billion).
"It could grow 10 times that size over the next decade if the cherry blossom industry is taken seriously," said Wang Rongbao, a member of the Chinese People's Political Consultative Conference National Committee, the country's top political advisory body.
She suggested China develop cherry blossom-related products such as food and cosmetics, cultural industries as well as the tourism.