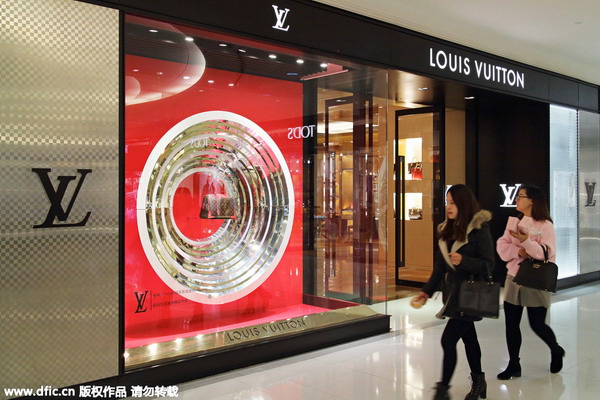 Customers walk past a Louis Vuitton (LV) boutique at a shopping mall in Fuzhou city, southeast China's Fujian province, January 16, 2015. [Photo / IC]
The luxury-goods sector is set for a revival despite the government's campaigns against official extravagance and corruption, as more individual consumers develop a taste for the finer things in life, a government think tank said on Thursday.
The China Consumption Market Development Report 2015, released in Beijing by the Chinese Academy of International Trade and Economic Cooperation under the Ministry of Commerce, forecast "a new peak" for luxury consumption this year.
The report noted an "improvement of awareness and demand for high-end commodities" among individuals. It said that luxury and high-end brands, which are offering more personalized products, have attracted more interest from the mass market.
Chinese consumers have become more "rational" about their luxury shopping, with lower brand loyalty but an unchanged purchasing frequency, said Zhao Ping, deputy director of the academy.
And younger generations who long for the good life are becoming the driving force of the luxury sector, she added.
The report said that the nation's consumption rate is set to exceed 50 percent this year for the first time in 10 years, with growth dominated by services rather than goods and by the Internet and information instead of traditional forms of consumption.
The consumption rate is the percentage consumption plays in GDP.
People will cut back spending this year on clothing and even food amid a slowing economy, the report said, but they will spend more on housing, healthcare, entertainment and education.
Information consumption is expected to grow at least 20 percent this year, driven by spending on smartphones, tablet computers and Internet-capable TV sets. Wearables and smart home appliances will garner more interest among consumers.
First-quarter retail sales expanded 10.6 percent to 7.1 trillion yuan ($1.16 trillion), official figures show. The growth rate was 1.4 percentage points lower than the same period of last year.
According to the ministry, sales of 5,000 key retail companies increased 4.6 percent in the first quarter, down 1.1 percentage points from a year earlier.
E-commerce sales rose 41 percent. Communications device sales increased 38.5 percent, up 23.3 percentage points from the year-earlier quarter.
A recovery was seen in the catering industry, with mass market restaurants the most popular.
Shen Danyang, spokesman for the ministry, told reporters on Thursday that retail sales will pick up in the current quarter, driven by new technology-based communication products and services that target mass consumers.