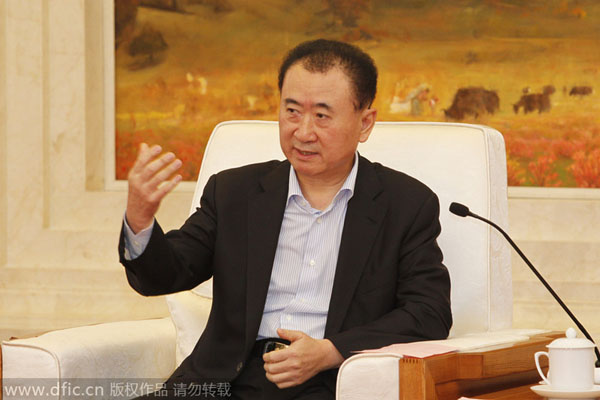 Wang Jianlin, chairman of Dalian Wanda Group, beats Jack Ma to the title of the richest man on the Chinese mainland on the 2015 Forbes Billionaires List. [Photo/IC]
About 55 percent of the wealthiest Chinese live outside first-tier cities, a survey has revealed, estimating that the 17,000 billionaires in the country own total wealth of 31 trillion yuan ($5 trillion).
Nearly half of the super rich, on average aged 51, are in manufacturing, real estate and TMT (Technology, Media, Telecommunications), according to the China Ultra High Net Wealth Report 2014-2015 released by Minsheng Bank and research institution Hurun Report.
"Total assets of the ultra high net wealth group equals about half of China's gross domestic product," said Hu Run, chairman of the Hurun Report. The survey targeted individuals with total assets above 0.5 billion yuan.
Seventy percent of the wealthiest have financing needs to support business expansion and acquisition activities, the report showed. More than 80 percent of interviewees are interested in outbound investment to boost their ambition of going global and diversifying asset allocation.
As for investment preference, 80 percent aim to increase their fortunes while the remainder look to hedge against inflation, according to the report. About 45 percent invest in jewelry and jade and 30 percent have large insurance policies.
The report highlighted the need among interviewees for a smooth transition of family business among generations and medical care, as nearly 60 percent of the wealthiest Chinese said they need a team of private doctors and better access to overseas hospitals.
According to the survey, the interviewees donate an average of 28 million yuan to charity, which accounts for 1.6 percent of their total wealth. Some 75 percent expect to manage their own charity funds.