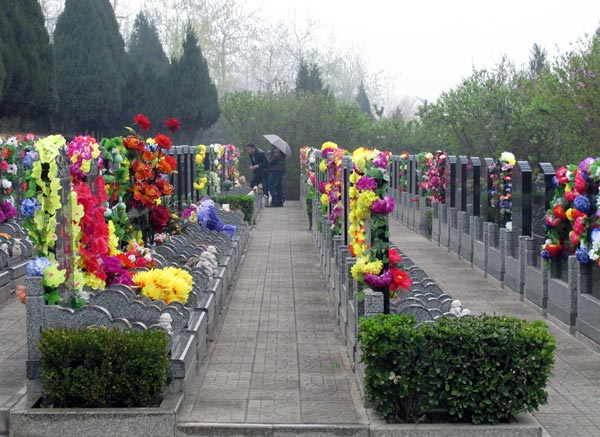 On March, 31, people visited their departed relative' tomb in the rain in All Buddha Cemetery in the Mentougou district locating in the western suburb of Beijing. [Wang Zhuangfei China Daily]
"It's a profiteering industry," said Zhang. "But we will still feel we have to purchase good cemetery sites, at high prices, to show our love for our parents."
According to a research released by the Ministry of Civil Affairs last month, 92 percent of Beijing respondents consider cemetery prices are too high.
It said that a middle-class cemetery site in the city costs an average 70,000 yuan, while the average annual income of the city was 69,519 yuan in 2013.
The report also showed that within the costs for a middle-range funeral in Beijing, the cemetery fee accounted for 87.5 percent of all expenses, including funeral home services and cremation.
Cemetery operators nearby the Babaoshan Revolutionary Cemetery in western Beijing are expecting crowds of customers this weekend, as China marks the traditional worshipping and tomb-sweeping day-Qingming Festival.
Today's funeral operators provide a whole range of services to mourners, including the hiring of hearses, arranging a mourning hall for guests, paper wreaths, cremation urns, as well as handling the actual cremation or burial itself.
The price of renting a hall can cost from 400 yuan to 3,220 yuan, with urns costing anything from 1,000 yuan to more than 100,000 yuan, said the manager of one company, surnamed Duan, operating from a building just along the main gate of the Babaoshan cemetery.
The CICC report estimated China's funeral industry last year was worth 71.4 billion yuan, and forecast the market will grow at roughly 17 percent until 2017.
It said that more than 10 million Chinese people died in 2014, but with an aging population, that is expected to double by 2025-30.
As prices continue to escalate, Li Bo, an official at the Ministry of Civil Affairs, said the government is putting the final touches to plans for a series of what it calls "eco-friendly" public welfare cemeteries, which are expected to offer more affordable prices.
Li said just 10 percent of burials that take place in China are considered eco-friendly, and the new measures are part of an ongoing program to grow that share to 30 percent by the end of this year.