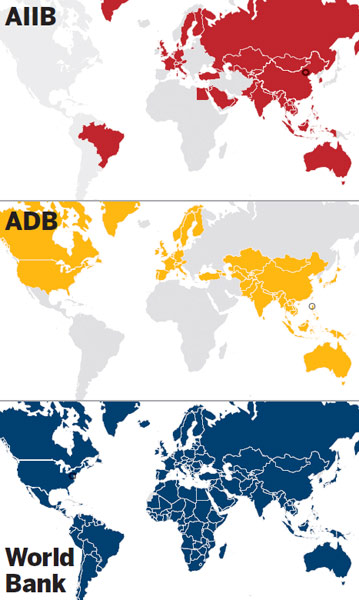 'Productive' talks held among would-be AIIB founders on the institution's rules
Forty-six countries had joined or applied to become founding members of the China-led Asian Infrastructure Investment Bank when the deadline closed on Tuesday.
"Productive" negotiations were held among the potential founders on the new bank's draft rules, officials said.
Jin Liqun, secretary-general of the AIIB's multilateral interim secretariat, reported on the latest developments regarding the bank's preparatory work to representatives from 29 would-be founding members at a working conference in Almaty, Kazakhstan.
Rules will be finalized and signed in the middle of the year after a final session planned for May. The bank is expected to be set up at the end of this year.
It will take about two weeks to reach a decision, and the final list of founding members will be settled as early as April 15. After this, countries can apply to join as ordinary members.
Representatives also discussed governance, procurement and environmental and social frameworks, according to a statement on the Chinese Finance Ministry's website. No further details were given.
The bank will be a multilateral institution aimed at funding infrastructure and other productive sectors in Asia. Major Western economies have flocked to join, including the four largest in Europe — Germany, France, UK and Italy — along with Australia, South Korea and Brazil.
Sweden and Kyrgyzstan are the latest countries applying to join the bank, which some reports have described as a potential rival to the Asian Development Bank.
The AIIB's authorized capital is $100 billion and its initial subscribed capital is expected to be about $50 billion. Potential founding members have agreed that GDP will be the basic parameter in determining share allocation among member countries.
While more than 40 countries have joined or applied to join the bank as founding members, experts said some important issues will soon need to be resolved.
Rod Wye, associate fellow at Chatham House, a think tank in London, said these included the rules for governance and how the capital is divided.
There are also questions over how successful the bank will be in providing loans, who receives the loans, and the type of companies that benefit from them, Wye added.
Contact the writers at zhaoyinan@chinadaily.com.cn and zhangchunyan@chinadaily.com.cn