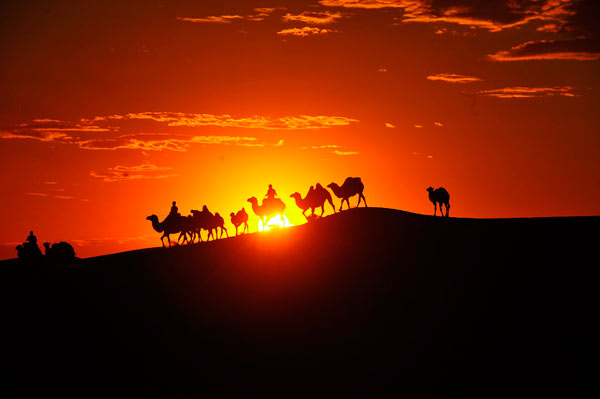 File photo of a desert in Tongliao, Inner Mongolia autonomous region. [Photo/CFP]
In his speech at the recent Boao Forum, top leader Xi Jinping said China's "Belt and Road Initiative" will not replace the existing regional cooperation mechanisms. Instead, they will help economies coordinate with each other strategically. More than 60 economies and international bodies have welcomed the initiative. Comments:
To make the initiative successful, China must take measures to let the economies that have responded positively realize China's sincerity and the potential benefits they could derive from them. China is making the right moves such as founding the Asian Infrastructure Investment Bank and establishing a fund for the initiative, both of which will support the economies with ample funds.
Xu Liping, a researcher in Southeast Asian affairs at the Chinese Academy of Social Sciences, March 30
China's economic development has much to do with infrastructure development - for example, its highways, expressways and railways are as good as those in developed economies. Other emerging economies in Asia and elsewhere have realized they can learn from China's example by developing their infrastructure first. That's why the initiative has won wide approval of a number of Asian and other countries.
Long Yongtu, former deputy trade minister and chief negotiator for China's accession to the World Trade Organization, March 30
With the global economic slowdown, the lack of infrastructure in Asia is becoming evident, highlighting the need to build more power plants and expressways. Such construction will boost not only the Asian economy, it will also boost the global economy, especially amid current difficulties worldwide.
Shanghai Securities, quoting Kevin Rudd, former prime minister of Australia, March 30
The "Belt and Road Initiative" is a key step toward China's grand diplomatic strategy, which is aimed at abolishing the zero-sum game and achieving win-win cooperation. The strategy will help China win worldwide support, because that's the only way of building communities across the world.
Guan Qingyou, executive director of Minsheng Securities Institute, March 30
With its incomparable software and favorable policies, the Hong Kong Special Administrative Region is expected to play a special role in the "Belt and Road Initiative". However, radical politics threatens to ruin the continuous prosperity of this international port, and has already curbed its development. Let's hope Hong Kong politicians can control the situation.
guancha.cn, March 28