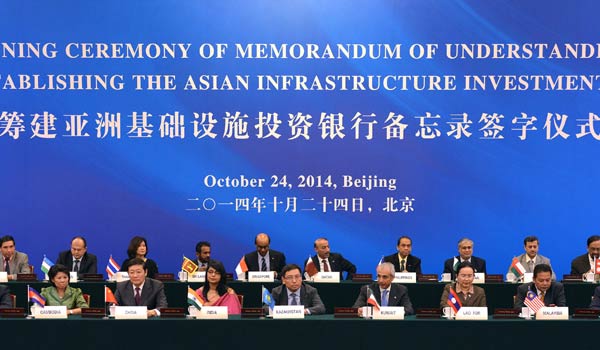 The signing ceremony of memorandum of understanding on establishing the Asian Infrastructure Investment Bank (AIIB) is held in Beijing, Oct 24 2014. [Photo/Xinhua]
BOAO -- The Unite States was too slow in accepting the necessity of the Asian Infrastructure Investment Bank (AIIB) in the Asian world, an important part of the global economy, Leo Melamed, the founder of global financial futures markets, said at a forum on Thursday.
"The AIIB is a very important move by Asia. I applaud that move. And it's necessary there is a development bank like such for the Asian world, whose economic volume is at least a third of the whole planet," said Melamed, at a sub-forum during the Boao Forum for Asia (BFA) Annual Conference 2015 held in Boao, a coastal town in south China's Hainan province.
Melamed, Chairman Emeritus of the Chicago Mercantile Exchange, said the International Monetary Fund has done quite well in the development of Europe. Asia is now at the critical point in the world that it deserves development just like in other regions.
"Many nations saw that and immediately joined the AIIB." said Melamed, who is more than 80 years old. "I think the US was too slow in accepting that necessity and I think they will join because it will be foolish not to."
"The AIIB will serve the Asian world in its development and there is no question about it. It will be great when it develops itself to be available to new ideas and new growth for the Asian world where I think new growth of the next 30 years will be happening." Melamed said.
Melamed said it is something should be high in the agenda of the Obama administration. The AIIB is an example of the kind of things he believes the US is too slow in understanding the importance of.
"I don't know what the Obama administration will do in the future, but I always believe that they have to be very flexible when they are thinking as the Asian world develops." Melamed said.
As China surpassed Japan as the world's second largest economy, China has become a very important or even the most important element in the Asian world, Melamed said.
"China understands that it has a big role to play but it cannot be until its currency becomes convertible and it opens up its borders to international participation. That's absolutely the next step." Melamed said.