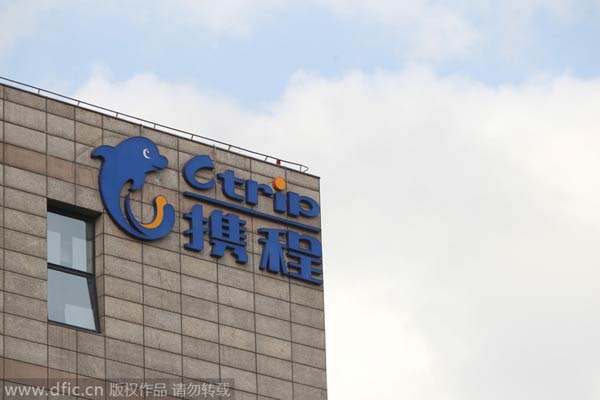 View of an office building of online travel agency Ctrip in Shanghai, Oct 28, 2014.[Photo/IC]
Ctrip.com International Inc, China's largest online travel agency, on Wednesday said it was setting up a new platform that focuses on big data analysis for the hotel industry.
The new company, Beijing JointWisdom Information Technology Co Ltd, has been formed by the merger of two Ctrip affiliates-Brand Wisdom and CHSIS-and will be the first domestic hotel data platform in China.
JointWisdom will integrate the hotel industry's big data and cloud computing technology through its three main businesses, including software development, information channels and market intelligence, said Lin Xiaojun, chief executive officer of the new company.
On the software side, JointWisdom will provide property management systems to hotels. The new company already has more than 50,000 hotel clients since CHSIS was a former PMS provider. "Our PMS clients will exceed 70,000 by the end of this year," Lin said.
JointWisdom will also develop a hotel industry data platform, which does not exist in China currently. "Data are very important for hotels to understand consumer preferences and upgrade services," Lin said.
But in the past, because of limited technology skills, hotels in China only collected data without analyzing or using them, he said.
With data-processing costs reducing, "it is an ideal opportunity for us to use the data", Lin said. Ctrip's support gives JointWisdom an easy access to hotel data, he said.
Accommodation reservation volume of Ctrip increased 53 percent year-on-year in the fourth quarter of 2014, and revenue increased 31 percent year-on-year during the same period, said Ctrip's annual report released last Thursday.
"It is the 10th successive quarter that our accommodation reservation volume growth has exceeded 40 percent," said Liang Jianzhang, chairman and CEO of Ctrip.
JointWisdom also expects to cooperate with other online travel agencies, although Ctrip will retain its controlling share, said Lin."
Other online travel agencies also can connect directly with tens of thousands of hotels through the JointWisdom platform, he said.
JointWisdom also announced the launch of China Hotel Industry Index, which will include hotel satisfaction, hotel brand and hotel customer price intention indexes.
The three main indexes will indicate the satisfaction rate, brand impact and consumer demand trends, respectively, in the hotel industry, said Xu Jingsheng, secretary-general of China Tourist Hotels Association, one of the joint developers of the index.