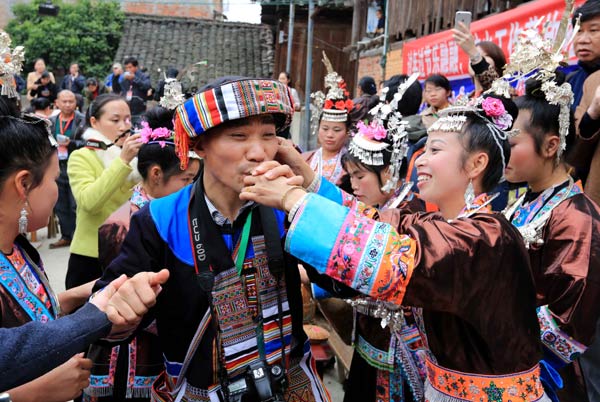 Women of the Dong ethnic group in Liuzhou, Guangxi Zhuang autonomous region, greet tourists. China's travel and tourism sector will contribute 6.24 trillion yuan, or 9.5 percent of the country's GDP this year.[TAN KAIXING/FOR CHINA DAILY]
China's tourism industry will grow 7.5 percent this year, faster than the national economy, according to a report released by one of the industry's leading representative organizations.
The World Travel & Tourism Council, which groups the chief executives of around 100 of the world's leading travel and tourism companies, said that last year the sector contributed 5.81 trillion yuan ($935.58 billion) to China's gross domestic product and generated 66.1 million jobs.
The 25-year-old WTTC quantifies the industry annually, and this year's report covers 184 countries and 25 regions.
"During 2015, the industry's GDP contribution is forecast to grow by 7.5 percent and employment by 3.3 percent in China," said David Scowsill, the WTTC's president and chief executive officer.
"The country's middle class is growing and traveling more and the government has positioned the travel industry as one of its pillars of economic development."
Premier Li Keqiang said earlier this month that the country's annual economic growth target will be around 7 percent.
Scowsill said the government has been very successful at its planning and construction of infrastructure projects such as high-speed rail and airport networks, and hotels which have all helped boost industry growth.
According to the latest official figures from the China National Tourism Administration, tourism revenue hit 3.38 trillion yuan in 2014.
Scowsill explained the administration's figures highlight just the contribution of the travel and tourism sector, while his figures include "overall economic benefit of the industry and incorporates related industries such as restaurants, taxis and so on".
The WTTC said travel and tourism is one of the world's largest industries, supporting 277 million jobs and generating 9 percent of the world GDP, or $7.58 trillion.