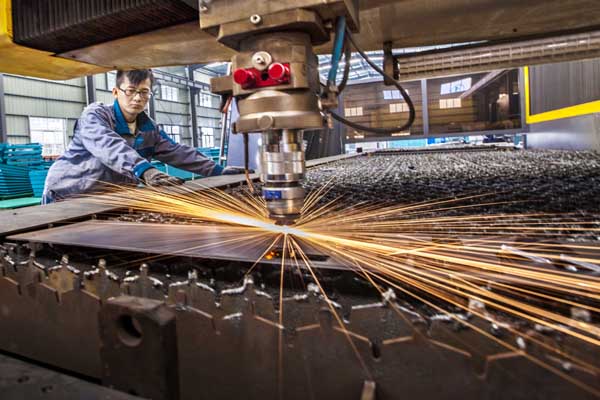 Elevator fittings being produced at a company in Lianyungang city, Jiangsu province. [Provided to China Daily]
China is set to post GDP growth of 7.2 percent this year and 7 percent next, the Asian Development Bank said in its annual economic report on Tuesday.
Asia's largest economy is likely to retain its position as the biggest contributor to world GDP growth over the next two years.
"China's economy can continue to deliver solid growth as long as the government makes steady progress on its reform agenda which can elevate productivity," said ADB chief economist Shang-Jin Wei.
"Deepening financial sector reform, such as reducing the dominance of State-owned banks and liberalizing interest rates while preserving financial stability, is a key element of the needed reform package," he said.
China's economy will contribute 32 percent of world growth this year, compared with 16 percent from India, the report said.
The strengthening of the RMB against the currencies of most the country's partners that began in 2014 may continue in 2015, in line with a strongly appreciating US dollar and the still close connection between the two currencies, according to the ADB report.
"The monetary policy in China will continue to strike a balance between limiting credit expansion in the financial and property sectors, while accommodating the need for credit support to small and medium-sized businesses," it said.