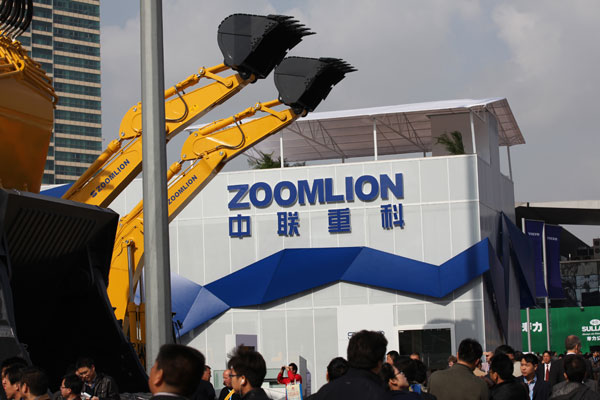 Zoomlion Heavy Industry Science & Technology Development Co Ltd equipment on display at a trade show in Shanghai. [Photo provided to China Daily]
CHANGSHA - China's leading construction machinery producer Zoomlion has contracted a large rice field in central China's Hunan province as the company launches into mechanical farming.
A 253-hectare farm that will demonstrate modern agriculture and be operated by Zoomlion Heavy Industry Science & Technology Development Co, Ltd in the outskirts of Changsha, Hunan's provincial capital, was officially inaugurated on Friday.
The company plans to develop more machinery to carry out intensive cultivation on the farmland, Li Jiangtao, deputy executive manager of Zoomlion, said on Sunday.
Zoomlion specializes in making large construction machinery and has eyed the agricultural sector as a new growth area amid decreasing income from industrial manufacturing. It signed a deal worth $340 million in August last year to purchase a majority share in farm machinery maker Chery Heavy, paving the way for its march into the agricultural sector.
Zoomlion also contracted a 2,333-hectare demonstration farmland in Henan province earlier in January.
Farmland in many rural areas has been left unattended, as most local laborers seek city jobs, Li said. This creates a chance to push forward mechanic farming. Through the farming operation, the company is expected to explore new techniques, devices and management modes to carry out smart farming.
He said the company also plans to turn demonstration farms into service bases to provide consultation for farmers in agricultural services, management and financing, he said.
Mechanical farming in China is still at a burgeoning stage. Industrial insiders estimate with the development of modern farming, the country's agricultural machinery sector would reach 400 billion yuan ($65 billion) or more in 2015, and exceed 500 billion yuan by 2018.