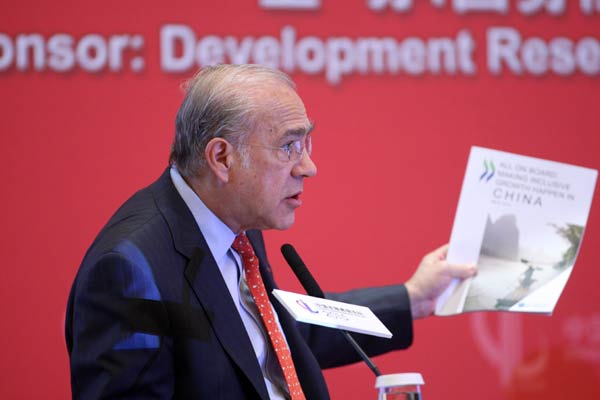 Angel Gurria, secretary-general of the Organisation for Economic Cooperation and Development.[Provided to China Daily] 
China needs to transition to a new coordinated and consolidated model of regional development, such as that championed by the Beijing-Tianjin-Hebei integration initiative, in order to offset the future challenges of urbanization, experts said at the China Development Forum on Saturday.
Angel Gurria, secretary-general of the Organisation for Economic Cooperation and Development, said China's transition to growth based on domestic consumption, efficient use of resources and higher productivity needs to be matched with a new normal of urbanization, where policy coordination at the metropolitan level will be increasingly important.
"As Chinese cities grow together to form vast urban regions, reforms need to be linked to a clearer allocation of competences with a better matching of financial resources and a better matching and coordination of responsibilities," said Gurria.
A recent National Urban Policy Review of China carried out by the OECD found that the incentives for competition among local governments are strong while the mechanisms for coordination are weak.
The OECD recommends that more be done to manage the coordination of land use and transportation across local governments to help consolidate large metropolitan areas, as is seen in the integration plan for Beijing-Tianjin-Hebei, said Gurria.
The coordinated development of the Beijing-Tianjin-Hebei region is one of the top priorities for China's new urbanization plan up to 2030, along with the Silk Road and the Yangtze River economic belts.
The region is home to over 100 million people, about 8 percent of the nation's population, and it contributed over 10 percent of the nation's GDP in 2013.
Xu Kuangdi, former deputy chairman of the Chinese People's Political Consultative Conference and president of the Chinese Academy of Engineering, said breakneck economic growth and urbanization over the last 30 years has created "urban diseases" that can be neutralized by the development of metropolitan belts or clusters.
"The plan is to make Beijing, Tianjin and Hebei a world-class megaregion, with the capital at the center, that will lead the way in reforms related to integrated development, innovation as an engine for the national economy and environmental improvement," said Xu.
In addition, the OECD policy review also suggested the proportion of land used for industry in Chinese urban cities be reduced and an end to residential registration, or hukou, which it said is bad for economic growth and equity.
The government targets an urban population ratio of 60 percent by 2020, up from the 52.6 percent at the end of 2012. This will result in a further 100 million people moving to urban areas in the next five years.