China's plan to integrate Beijing, Tianjin and Hebei province into the so-called capital economic circle may cause a serious oversupply risk in the real estate sector if a well-coordinated development strategy is not in place, real estate services firm Jones Lang LaSalle warned on Monday.
Given China's slowing economic growth and weaker expansion of commercial property occupancy, demand across the region is insufficient to justify a large creation of commercial real estate, especially office space, the company said in its latest report.
More than 15 million square meters of commercial space is expected to be completed in Beijing and Tianjin under the plan by 2020. While it is unlikely that all of the space will be completed on time, the fact that so much space is planned for the two cities is worrying, the report said.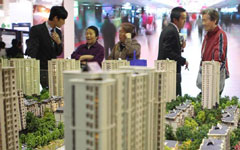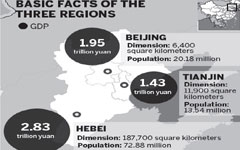 Building Bohai Bay economic zone a challenge: Official
Both Tianjin municipality and Hebei province are trying to emulate the success of Beijing by building new office towers and commercial areas that rival the capital's central business district.
"The competition is creating waste and overlapping development strategies in the regions, which is something the government should look at," Durrell Mack, head of research of JLL's Tianjin branch, said at a press briefing.
The oversupply risk is even higher in smaller cities in Hebei province that are planning new central business districts. The province is traditionally an industrial base of China and many of the cities have relatively small service sectors, according to the report.
The central government raised the plan to develop an economic circle covering Beijing, Tianjin and Hebei province in March. Upon completion, it will become the country's third major urban conglomeration, after the economic hub in the Yangtze River Delta in the east and the Pearl River Delta economic zone in the south.
The plan involves investing billions of yuan to build industrial parks, transportation infrastructure, manufacturing and logistics bases in the region that has a population of 107 million.
Better coordination and an integrated development approach are needed so that fewer cities in the region will try to build the next great commercial center and will instead focus on utilizing their competitive advantages and allow the private sector to figure out what is needed in terms of commercial real estate, the report suggested.
For example, the competitive edge of Hebei province is its lower labor and land costs, which could be good for development of the logistics sector, while Tianjin has good infrastructure and a seaport that make it ideal for shipping and advanced manufacturing.
"In the past, local governments tended to have the 'if you build it, they will come' mentality. But what makes more sense is to let the commercial developers decide what to build because they are much more focused on returns and are more likely to have projects that meet market demand," said Michael Hart, managing director at JLL's Tianjin branch.
While investors are advised to take a wait-and-see approach toward the plan of the Beijing-Tianjin-Hebei economic circle, opportunities have emerged in the sector of logistics and warehousing property, the report said.
"What we know for now is that there is immediate opportunity in the logistics sector and warehousing property, specifically distribution centers that are essential to the rise of e-commerce and offline retail malls," said Steven McCord, director of research at JLL China.
The region has been a prime area for warehouse investment and recent transactions have occurred at gross yields of 7 to 9 percent, which is a much higher return than that of the office and retail sectors, the report said.
Both domestic and foreign investors such as China Vanke Co Ltd, Blackstone Group, and KKR & Co LP have shown growing interest in the warehousing properties in the region, according to JLL.