Fixed-asset funding in industry and real estate sector will be the most convenient tool for China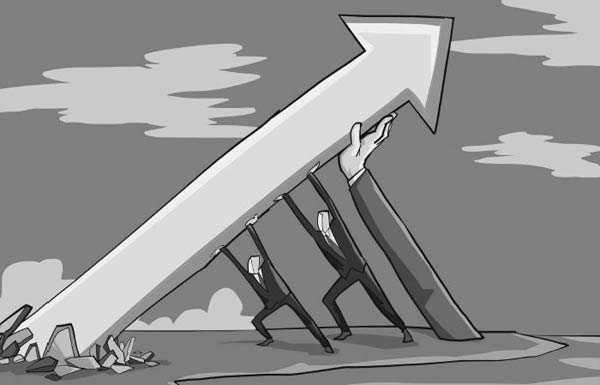 ZHANG CHENGLIANG/CHINA DAILY
One of the most important signals sent out at the "two sessions", the annual meeting that brings together China's national legislators and political advisers, is that the judgment of top policymakers toward the economic trend has changed. In the delicate balance between economic growth and reform, the leadership is leaning toward stabilizing growth. Based on this change, investors should adjust their strategies and focus of industries.
To be more specific, top policymakers are now convinced that the Chinese economy faces more difficulties than a year ago. In the Government Work Report, which Premier Li Keqiang delivered on March 5 to the National People's Congress, the top legislature, he said: "The difficulty for stabilizing (economic) growth is growing." Therefore, as widely expected, the government lowered this year's economic growth target to 7 percent from last year's 7.5 percent.
When setting the tone for the work of 2015, the report said: "Development is of overriding importance, which is the foundation and key to solving all problems."
By comparison, the most important task of last year, as listed by the work report, was reform. This is a clear indication that top policymakers' judgment of the economic priority has changed. Stabilizing growth has moved up the priority list.
This change is not a total surprise. In fact, since the middle of last year, when the quarterly GDP growth was lower than the yearly target, Li has stressed frequently the importance of maintaining economic growth within a reasonable range. Monetary policies were then loosened several times to support economic growth. The latest such loosening came just a few days ahead of the opening of the "two sessions", with the People's Bank of China cutting interest rates.
Top policymakers have obviously reached a consensus at the "two sessions" that downward pressure is the largest enemy amid the fragile global economic recovery and difficulties in pressing ahead with China's restructuring and rebalancing. Based on that understanding, policy setting will change accordingly.
The first change will be monetary policies. Although this year's Government Work Report says the central government will continue to deploy a "stable" monetary stance, it is highly expected that the stance will lean toward "neutral", with more loosening in sight. Reductions of required reserve ratios for lenders, which can help pump more liquidity into the market, are a convenient option for the central bank if first quarter economic figures are not satisfactory.
Further interest rate cuts are also on the cards if policymakers think the downward pressures are too high. In this sense, the scenario that the central bank stays indifferent when the market grapples with a credit crunch as serious as in the middle of 2013 will not be repeated. In short, we are going to expect a more amiable central bank throughout this year.