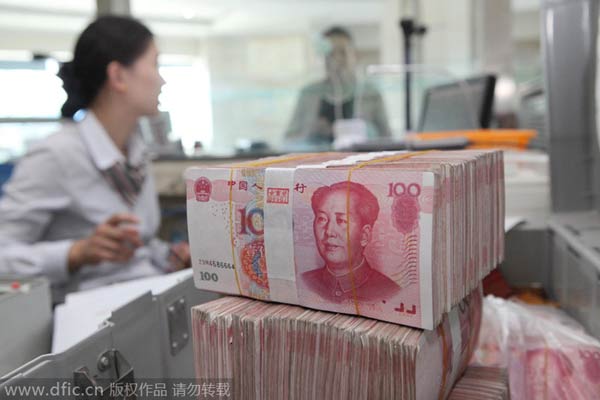 An employee counts renminbi (yuan) banknotes at a bank in Lianyungang city, East China's Jiangsu province, June 4, 2014. [Photo/IC]
The central government has for the first time clarified the definition of general obligation bonds issued by local governments and announced provisional regulations covering such securities, a development that lays the foundation for a true municipal debt market in China.
In a statement on Tuesday, the Ministry of Finance defined "general local government bonds" as those issued for public projects that are not expected to generate revenue, with repayment to come from the issuing jurisdiction's fiscal revenue.
Public projects that are expected to generate revenue will be funded by "special local government bonds", with rules governing that debt to be released later, the ministry said.
Last May, a pilot program was launched that allows 10 regional governments, including the cities of Beijing and Shanghai along with Guangdong and Jiangxi provinces, to issue and repay bonds directly. So far, 109.2 billion yuan ($17.7 billion) of GLGBs have been issued under this program.
Previously, the Finance Ministry issued and repaid local government bonds on behalf of regional governments.
The expansion of the pilot program and the announcement of specific rules on these debt issues are part of a broad policy portfolio intended to tackle the lurking risk in local government debt, a problem dubbed a "ticking time-bomb" for the economy.
The central government since last year has followed a strategy of "opening the front door while blocking the side doors", meaning the replacement of the massive off-balance sheet debt incurred by local governments with well-regulated bonds that have longer maturities and lower interest rates.
The new provisional regulations stipulate that GLGB issuers are limited to provincial-level governments and governments of cities listed independently in the State plan (there are five such cities: Shenzhen, Xiamen, Ningbo, Qingdao and Dalian). The regulations also state that:
・GLGB issues and repayment shall follow market principles.
・Issues will be limited to a quota approved by the State Council (cabinet).
・Issues must also be approved by the local people's congress and be listed in the issuing government's annual budget.
・GLGBs can have maturities of one, three, five, seven or 10 years, but no single tenor can exceed 30 percent of the total issuance in a year.
"We consider these measures an important step in reforming China's current budget system and investment and financing mechanism. We believe this step will help resolve local government financing problems, mitigate systemic financial risks and reduce the financing costs of local governments, all of which should push down China's yield curve," said a report by Nomura Securities.
"We view the latest announcement as another step forward for the development of this nascent market, a credit positive," said Nicholas Zhu, a senior analyst covering sub-sovereign debt at Moody's Investors Service. "In particular, investors will be encouraged by the emphasis the Ministry of Finance puts on strengthening the market discipline of leveling informational transparency between investors and issuers."
The ministry said GLGB issues will be entirely conducted by local governments, meaning that the ministry's role in issuing and repaying debt for local governments will be abandoned. The previous national budget set a combined 500 billion yuan quota for this year's GLGB issues.
China Securities said there is still some ambiguity in the rules. Different local governments have different understandings of what projects "do not generate revenue". For example, some may consider that a road will generate revenue, while others may not.