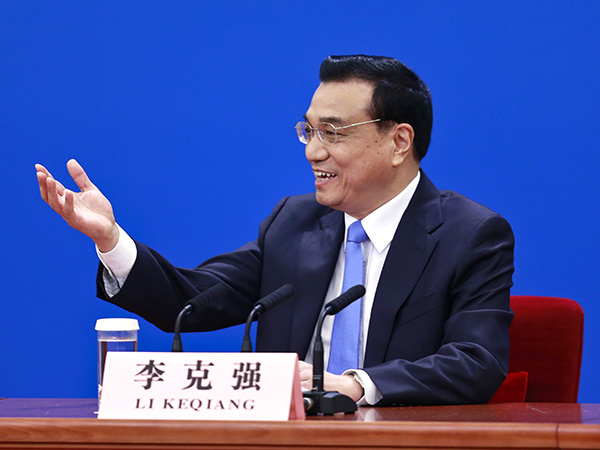 Chinese Premier Li Keqiang speaks at a news conference after the closing session of the annual National People's Congress, at the Great Hall of the People, in Beijing, March 15, 2015. [Photo By Feng Yongbin/chinadaily.com.cn]
Highlights of Premier Li's press conference

China has the potential, resilience and room to keep its economy growing within a rational range, Premier Li Keqiang said at a press conference at the end of the annual session of the National People's Congress, China's top legislature, on Sunday.
Premier Li answered 17 questions from Chinese and foreign media covering almost all fields, with the focus on economy and reform.
It is easy to realize the 7 percent growth, a lower target than previous years, given China's huge economic size, Premier Li said. "We should pay more attention to the quality and efficiency of the economy, so as to ensure the steady and healthy economic growth in the long run."
Premier Li allayed the foreign reporters' worries on the future of Chinese economy, and said the government will strengthen its well-targeted macro-control policies to keep the steady economic growth, guaranteeing enough jobs be created and price inflation be checked.
The rational-range economic growth, high saving rates and reform of government debt platform and the financial sector ensure that the government has the ability to avoid regional and systematic financial crisis, despite the slight increase of bad loans, which is still lower conventional international standard.
"We allow some individual cases of financial risks to happen, and they should be settled through market-based methods," Li said.
Li denied that China has entered or exported deflation. "China is actually at the receiving end of deflation, and 'deflated' by the drop in staple commodity prices in the world," Li said.
"Chinese government still has plenty of tools at its disposal … to keep a delicate balance between restructuring and growth," said Li. "There is mounting downward pressure and multiple challenges and we should keep a big sight in mind and make the correct move at the same time.
Reform has been the key word in Li's three press conferences at the NPC's annual session as premier since 2012. The deepening of reform will necessarily touch the interests of some people, Li said. "Giving up power is not to trim finger nails, but cut one's own hand."
"The government's self-imposed reform is still there and acute. Streamlining the government and delegating powers to the market and society can boost the vitality of the market and the economy," Premier Li said responding to a question on reform and economy raised by Bloomberg.