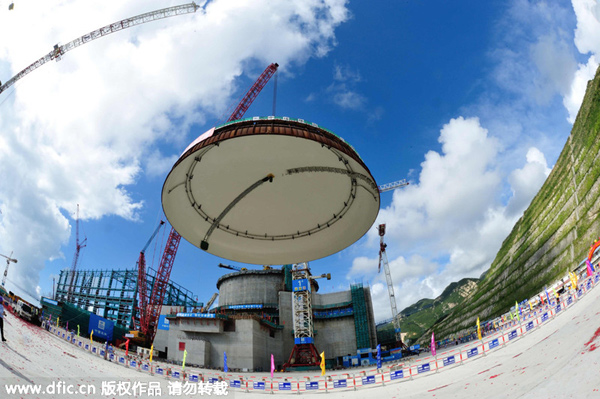 The dome of the containment structure for the No 2 reactor is being hoisted at the Taishan Nuclear Power Plant in Taishan city, South China's Guangdong province, Sept 12, 2012. [Photo/IC]
SHENZHEN -- China's top economic planner has approved the construction of the second phase of a nuclear power station in the country's northeast, the first approved since 2011, a company source said on Tuesday.
The second phase of the Hongyanhe nuclear power station involves two million-kilowatt generators. Approved by the National Development and Reform Commission, the second phase still needs a construction license from the National Nuclear Safety Administration.
The construction of the project in Liaoning province will use the self-developed nuclear power technology of China General Nuclear Power Group based in south China's Guangdong province, said Yang Xiaofeng, general manager of Liaoning Hongyanhe Nuclear Power Co Ltd.
The Hongyanhe nuclear power station is designed to have six generating units of the million-kilowatt class. It began construction in 2007. The first phase has four generating units. Two generators were put into commercial use in 2013 and 2014. A third unit will be put into use in the first half of this year. The fourth unit is under construction.
China suspended the approval of new nuclear plants and carried out a nationwide safety review after Japan's Fukushima nuclear plant disaster in March 2011.
Last year, China said it would restart nuclear power generation projects in eastern coastal areas with the world's highest safety standard.
Nuclear power generation takes up about 2 percent of the total in China, much lower than the world average 15 percent.