A growing number of Chinese farmers are making full use of fecal sludge at home by turning it into fertilizer and biogas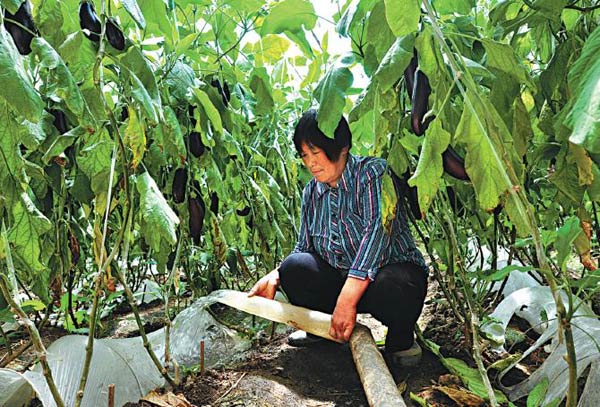 A farmer in Zouping county, Shandong province, use fertilisers made from human and poultry waste in her farm to boost vegetable growth.[DONG NAIDE / FOR CHINA DAILY]
Heinz-Peter Mang is obsessed with turning human waste into gold. As millions of Chinese move to cities, the German engineer is convinced the country is on the way to hitting the jackpot.
A growing portion of China's toilet waste is converted into fertilizer and biogas. In Beijing, 6,800 tons of human excrement are treated each day by some estimates: enough to fill almost three Olympic-size swimming pools.
Over the past decade, China's economic ascent has driven millions of rural workers into its cities in the largest migration in human history. In 2013, the number of urban dwellers crossed 731 million, overtaking the rural population by more than 100 million. Some fallouts: water shortages in the North and toilet waste routed into rivers in the south.
That's forcing city planners to get creative in dealing with toilet refuse, and drawing engineers like Mangto help refine models. The push to re-purpose feces into energy resources or fertilizer is expanding across China, and Mang is advocating for the model to be copied in other parts of the world.
"The world has much to learn from China in the way it's harnessed waste for energy," said Mang, 57, who now works with graduate students on ecological sanitation projects at the University of Science and Technology Beijing. "With the lack of taboo around reusing fecal matter, it's all about the science for safe reuse, and with more and more people moving into cities there's an unprecedented opportunity."
Sludge recycling
Globally, a variety of techniques are used to handle human waste: some cities dump it in rivers, others choose to incinerate, and still others bury it in ditches. United Utilities Group Plc, Britain's largest publicly traded water company, handles the sewage of 1.2 million people in Manchester and operates a sludge recycling center that runs on enough human waste to power 25,000 homes.
While other parts of the world also harness fecal sludge into resources, and human beings have for centuries found ways to re-purpose their waste, China's opportunity to do so is unmatched as the nation's cities become more crammed.
Loop closing
Mang's life and work has centered around China, and offers a window into the country's evolution on managing waste. He first arrived in Chengdu, China, in 1982 as part of a German government delegation, collaborating with China on a biogas project.
He was hooked from the start. The willingness of the Chinese to try different ways to use waste sustainably was amazing to Mang, then a newly graduated environmental engineer who authored a master's thesis on sustainable uses of sewage sludge.