Recycling the answer to China's junk dilemma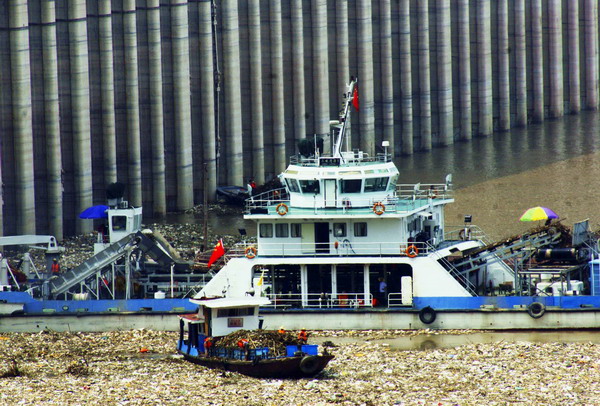 People clean up floating garbages along the Three Gorges Dam in Yichang, Hubei province, July 18, 2013. Experts on Friday called on the government and public to reduce, reuse and recycle as much waste as possible as official data showed more than one-third of the country's cities are besieged by garbage.  [Photo / Xinhua]
GUIYANG -- Experts on Friday called on the government and public to reduce, reuse and recycle as much waste as possible as official data showed more than one-third of the country's cities are besieged by garbage.
Only about 5 percent of about 1 billion tons of construction waste generated each year in the country is recycled or reused, said Wang Jiwei, Secretary General of the China Association of Resource Comprehensive Utilization, at an ecological forum held in Southwest China's Guizhou province.
"The public still need to enhance their awareness of the importance of reusing garbage," he said. "They should realize waste is just misplaced resources."
Also at the forum, Zheng Kangbin, senior economist at Asian Development Bank, said, "People should take into consideration cost, cash flow, security and technical suitability in ecologically friendly projects, and attract more investment."
China could also learn from advanced foreign experiences in risk control and policy stipulation, according to Zheng.
Eugene Chien, chairman of the Taiwan Institute for Sustainable Energy, said drawing from the island's experience, it is important to introduce multiple policies and measures to reduce garbage from the source.
Citizens should be educated and trained on green consumption and garbage treatment, he said.
Household garbage classification for collection has long been a headache for recycling. Many big cities, such as Beijing, Shanghai, Guangzhou, Shenzhen and Hangzhou, pioneered garbage classification in 2000. Thirteen years later, though, the initiative has yet to get off the ground.
"With no precondition-garbage classification, following disposal methods -- landfill, burning and bio-degeneration -- will only be empty words," said Huang Xiaoshan, a grassroots garbage disposal campaigner who built a mini-trash treatment facility dubbed "Green House" in his suburban home community in Beijing.