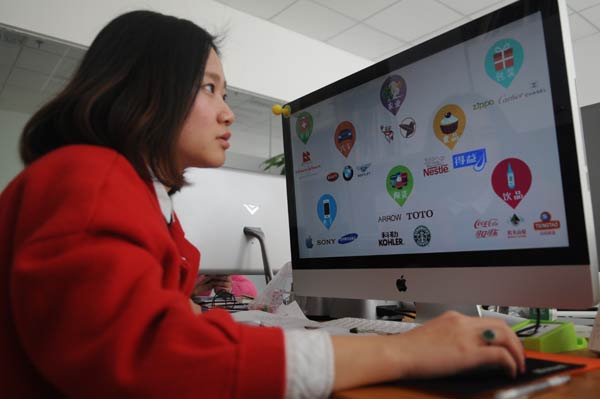 Li Fangwei, a graduate from Hunan province, works as a designer at a technology and innovation company in Zibo, Shandong province. Last year, the city set up an entrepreneurship center for graduates that offers favorable policies to encourage budding businesspeople to start their own companies. YAN SHENGTING/CHINA DAILY
As the number of graduates continues to rise, many are opting to start their own companies. However, fierce competition and scant experience of the world outside college is making life hard for China's budding businesspeople, as Su Zhou reports.
While most of his classmates are busy trying to secure job interviews, Yuan Bozhi, a computer science graduate-student at Tsinghua University, has already been offered several well-paid posts in the Internet industry.
However, despite the interest of several online giants, Yuan has chosen to work for an employer who is unable to make any promises about job security or offer the sort of remuneration to which graduates have become accustomed: Himself.
"After so many years of being educated at one of the most prestigious universities in China, I don't want to spend my time working to make profits for a company. I want to do something meaningful," the 27-year-old from Beijing said.
Yuan was inspired by a casual chat with a friend who works in the logistics industry, which is growing rapidly in tandem with the boom in e-commerce.
"We talked about the industry's business model," Yuan said. "Faced with fierce competition, logistics companies can only make money by collecting parcels, but the delivery person has to work very hard to collect them, phoning the recipients, waiting around, and so on. So we discussed how we could improve the model by making the process easier and more transparent."
Yuan's team quickly worked up a mobile app that allows users to post their requirements, such as the time and location for delivery, just like ordering a taxi by app. "At the moment, the app is undergoing tests with our tech team, but we hope to release it later this month or in April," he said.
He believes the time is ripe for innovations such as his, and said even his father has backed the idea: "This might have been a tough call several years ago, but times have changed. The risks for startups are lower than before. Anyway, if I fail, I can still apply for a good job based the experience I will have gained."