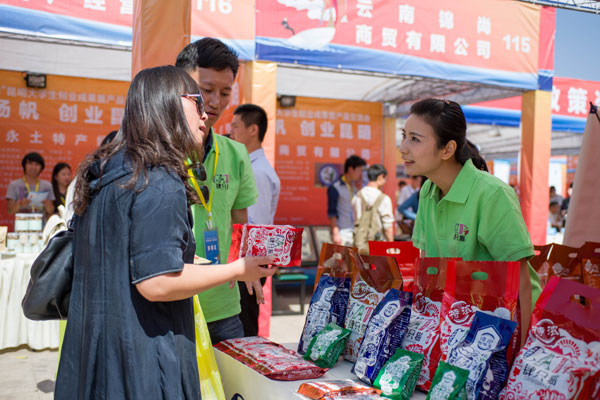 A self-employed student (right) introduces products during an exhibition at Yunnan University in Kunming on Saturday. The central government is drafting a plan to help 2014-17 graduates start their own businesses. HU CHAO/XINHUA
Vice-minister lauds former law student for opening noodle shop
At a busy corner in Beijing's central business district, Zhang Tianyi serves up bowls of rice noodles to white-collar workers during mealtime. The lines for the specialty from Changde in Hunan are long every day.
But Zhang is not your typical Beijing food vendor. The 24-year-old just completed work on his master's degree in law from prestigious Peking University, but instead of practicing law, he decided to open his restaurant one month ago.
Zhang was held up as an example by Xin Changxing, vice-minister of human resources and social security, at a news conference on
employment
held in Beijing on Tuesday. The vice-minister encouraged college graduates to start their own business in a difficult job market, and try to be the next Bill Gates or Jack Ma.
Xin said he read Zhang's story in a media report and was impressed by the graduate-to-be's words that Beijing needs a bowl of authentic beef rice noodles from his hometown more than it needs another financial lawyer.
Xin praised Zhang's entrepreneurial spirit for managing to find the gap in the market and trying to fill it. However, only 1 percent of Chinese university students choose to be entrepreneurs after they leave college, he said.
He also revealed that the central government is drafting a plan to help more than 800,000 university graduates such as Zhang start their businesses, from 2014 to 2017 by improving the government's support policies and services.
Xin said the government will step up efforts in three areas to enhance college students' participation in entrepreneurship: to stimulate college graduates' enthusiasm for entrepreneurship; to provide related training and education; and to implement supportive policies including tax deductions, financing and offering follow-up guidance and services to college grads' new companies, he said.