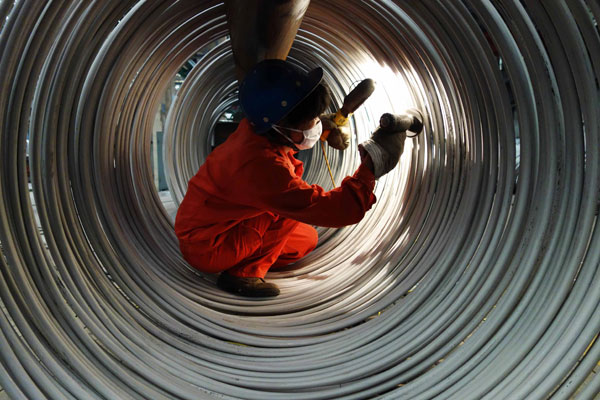 A worker checks stainless-steel cable at a base in Dalian, Liaoning province. [Liu Debin/China Daily]
The decision by the nation's largest private steelmaker, Shagang Group, to sell 55.1 percent of the shares in its Shenzhen-listed unit Jiangsu Shagang Group Co Ltd, was intended to raise funds for diversification beyond steel, analysts said.
The steel sector has been under pressure from overcapacity, rising raw material costs and weak demand for the past three years, and 2015 will be no different, they said.
This situation has forced companies, even those such as Shagang that remain profitable, to look at transformation, said Zhang Lin, a senior researcher at the Lange Steel Information Research Center.
According to Shagang's announcement on Tuesday, it has signed agreements with nine parties to sell the shares at 5.29 yuan (86 cents) per share.
After the transaction, Shagang Group will hold a 19.88 percent stake in the listed company, down from 75 percent previously. The parent company said it may reduce its stake further in the coming six months.
Shagang will gain about 4.6 billion yuan from the transaction. Zhang speculated that the funds will be used in the group's e-commerce platform, logistics service and micro-credit company.
Shagang launched an e-commerce website in September, which needs a capital injection, according to Zhang.
Diversification is nothing new for Chinese steel companies, which started doing this in the 1990s. At that time, large State-owned steel companies tried to extend their industrial chains to both the upstream and downstream sectors in order to reduce the risks of the steel business.
"At this time, though, diversification is a way to help these companies get through a cyclical downturn," Zhang said.
Xu Xiangchuan, chief information officer at industrial consulting group Mysteel, said many steel groups are reallocating their resources to survive the tough market. But those companies' leaders should be aware of the risks of developing non-steel businesses and make careful decisions, he said.
According to the Ministry of Industry and Information Technology, major domestic steel mills' profit margin was just 0.9 percent in 2014, the lowest among all industries.
Shagang's annual report showed that it had revenue of 10.48 billion yuan in 2014, down 2.82 percent year-on-year, while profit increased 25.9 percent to 35.56 million yuan. On Friday, Shagang's shares rose by the daily 10 percent limit to 8.26 yuan.