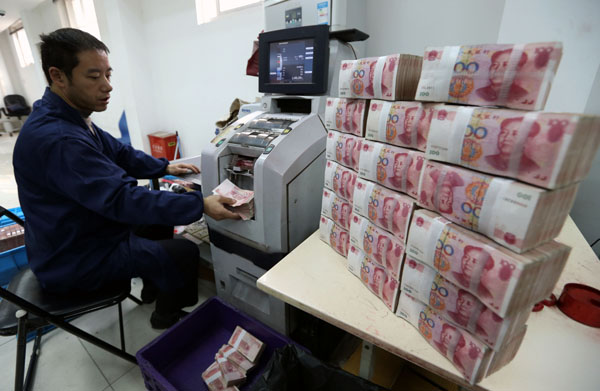 A bank employee prepares bank notes at an Industrial and Commercial Bank of China Ltd cash center in Wuxi, Jiangsu province. [Photo provided to China Daily]
In January, the Producer Price Index, which indicates industrial inflation, dropped to its lowest level since the global financial crisis, declining by 4.3 percent from a year earlier, compared with a 3.3 percent fall in December.
The PPI reading has remained negative for more than three years.
Zhang said that under pressure from deflation, companies' profits have been dropping, increasing commercial banks' nonperforming loans and adding risks to the financial system.
"China needs to cut benchmark interest rates further and launch a special asset purchasing plan, learning from the International Monetary Fund's reform and asset replacement measures," he said.
To support growth, China's central bank lowered the reserve requirement ratio, the minimum level of reserves banks must hold, by 50 basis points from Feb 5, the first universal cut since May 2012.
This followed an unexpected move to cut interest rates in November, the first reduction in more than two years.
Li Xuesong, deputy head of the academy's Quantitative and Technical Economics Institute, said further easing of monetary policy may accelerate capital flows out of China and increase depreciation pressure on the yuan against the US dollar.
According to his research, capital outflows reached 319.4 billion last year.
On Friday, the National Bureau of Statistics released a report forecasting that the United States may raise benchmark interest rates after June, which could trigger abnormal cross-border capital flows.
"Fluctuations in the foreign exchange market will impact on domestic economic stability, and appreciation of the US dollar will increase China's foreign debt burden," the report said.