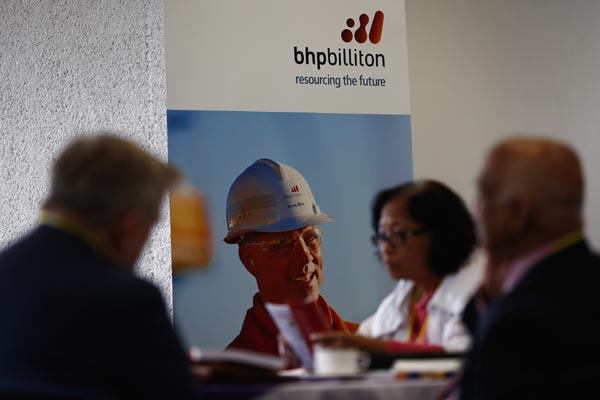 BHP Billiton Ltd shareholders wait in a refreshment area ahead of the company's annual general meeting in London, UK, on Oct 23,2014. [Photo provided to China Daily]
China's economy looks headed for a soft landing. At least that is what BHP Billiton Ltd and Australia's central bank chief Glenn Stevens are signaling more than 5,600 kilometers away.
BHP is highly attuned to the ebbs and flows of the world's biggest trading nation. While China's growth has slowed, the best estimate of Australian exporters and policymakers is that housing demand from the migration of rural Chinese to cities will help avert an abrupt further slump in expansion.
BHP, the world's biggest miner, forecasts a moderate recovery in Chinese demand for steel in 2015.
Stevens said that growth in the second-largest economy is impressive. Iron-ore shipments from the remote northwest Port Hedland - the largest exit point for such exports - have stabilized near a record level.
"Australia's data showed that China's economy is set to remain strong in 2015," said James Laurenceson, professor of economics and deputy director of the Australia-China Relations Institute in Sydney. "I look at all the numbers - resources, agriculture and services - and see solid indicators across the board."
One measure from China itself offered evidence of a trough in what has been a downturn in industrial expansion. The preliminary Purchasing Manager's Index for February from HSBC Holdings Plc and Markit Economics released on Wednesday showed a rebound. The Aussie dollar - which tumbled 15 percent in the past six months as China's slowdown deepened - gained after the release.
"I don't think the Australian dollar has much downside anymore," said Klaus Baader, chief Asia Pacific economist at Societe Generale SA, in an interview in Sydney.
"The real thing that is impacting us at the moment is the slowdown in residential construction in China," John Edwards, a member of the Australian central bank's board, said in a recent interview.
"There are some signs that is beginning to turn around. It will have to turn around, otherwise China won't be able to achieve its aims in respect to urbanization in the next decade or two."
Chinese policymakers have taken steps to shore up the property market, lowered interest rates last year and cut required reserve ratios for lenders this month.
An embrace of greater liquidity helped spur a third straight gain in China's broadest measure of new credit in January.
Officials also are preparing measures to counter a housing market slump and will roll them out if the economy needs support, said people with knowledge of the matter.
Experts said that Chinese residential construction is a boon for Australian resource producers and the country's urbanization drive supports steel output and demand for iron ore.