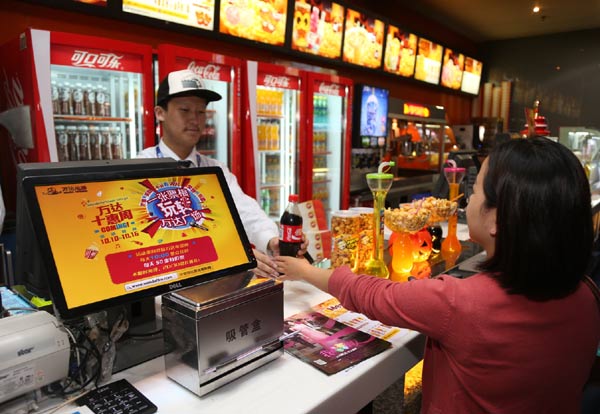 Wanda Cinema Line and Coca-Cola China announced a strategic partner agreement on October 22, 2013, providing Coca-Cola's soft drinks to the 119 cinemas of Wanda Cinema Line, the largest movie chain in China. [Photo / Provided to chinadaily.com.cn]
Leading players in US film industry welcome further investment from Chinese companies
The success of Chinese-backed films at this year's Oscars marks a strong reflection of the growth of Chinese investment in not only the US movie industry, but the global entertainment sector.
Digital Domain, a California-based digital production company backed by investors from Hong Kong, for instance, was nominated for Best Visual Effects at this year's Academy Awards for its work on one of the highest-grossing films of 2014, X-Men: Days of Future Past.
It was the second nomination for the company, formerly known as Sun Innovation. Its work on Iron Man 3 earned it an Oscar nomination last year too.
The Academy of Motion Picture Arts and Sciences also handed two Scientific and Technical Awards to the company for two of its technologies: Mova, a facial performance-capture system, and Drop, a software toolkit for simulating large-scale destruction scenes.
Hong Kong entertainment company Sun Innovation paid HK$392 million ($50.58 million) in July 2013 to buy the American visual-effects group from Beijing's Galloping Horse. In 2012, Galloping Horse bought 70 percent of Digital Domain, while Reliance Media retains 30 percent.
With its acquisition of Digital Domain 3.0, Sun Innovation plans to expand its reach and play a growing role in the burgeoning international feature film industry.
Last year saw a huge increase in Chinese film and media companies opening Hollywood branch offices too. Forming partnerships and entering co-financing agreements are seen as very much the golden tickets to Hollywood success for many Chinese investors.
Shanghai-based media group Fosun, for example, joined with Hollywood producer Jeff Robinov, the former Warner Brothers chief, to set up Studio 8 in 2014.
Fosun and Huayi Brothers Media Corp competed for the acquisition of Studio 8 and Huayi had announced a planned $150 million investment in the venture.
Fosun then raised that to $250 million and successfully closed the deal, making it the largest acquisition involving Chinese capital in Hollywood film industry history.
Sony Pictures Entertainment Inc then bought the distribution rights of all of Studio 8's films globally, except for the greater China region.