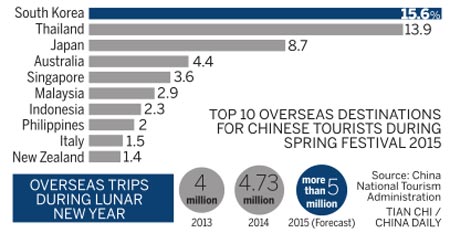 Falling sales of luxury European brands in China due to the anti-corruption campaign contrasts with the lavish spending by Chinese tourists abroad.
These tourists now account for 40 percent of luxury goods sales in France, 35 percent of such sales in Italy and 25 percent of luxury sales in Britain, the report said.
French politicians are considering a controversial plan to extend Sunday opening hours to accommodate the influx of Chinese travelers.
Paolo de Cesare, chief executive officer of Parisian luxury department store Printemps, said: "In the 1970s, we had shoppers from the United States. In the '80s and '90s we had Japanese and in the early 2000s we had Russians. But for the past six or seven years, Chinese have been the main tourists shopping at Printemps."
Forty percent of the company's sales comes from overseas visitors, who account for only 20 percent of its customers. Chinese customers make up 50 percent of those from overseas, according to Cesare.
British shopping malls also joined the battle to lure the world's top-spending tourists.
Glittering malls in central London saw brisk trade, with lines forming at popular stores and the most sought-after fashion items selling out fast.
"I saw a Chinese woman buy five luxury handbags and three watches for her family," said Li Rui, a Chinese shopper in her 30s.
According to Global Blue, which tracks spending by overseas visitors in Britain, China is the largest contributor, accounting for 25 percent of total tax-free spending last year.
"Retailers across Britain were set to benefit from the influx of international shoppers for Chinese New Year," said Gordon Clark, country manager for the UK and Ireland at Global Blue.
Luxury brands not only introduced products to cater to demand from Chinese consumers, but also launched services such as tax-free shopping, cultural training for marketing staff and payments through Chinese credit card UnionPay.
Prestige British department store Harrods has opened a new Chinese restaurant on its fifth floor. The 90-seat eatery serves signature dishes including Peking duck, lotus root and lily bulb in spicy sauce.
Tuo Yannan in Paris and Emma Glez in Beijing contributed to this story.