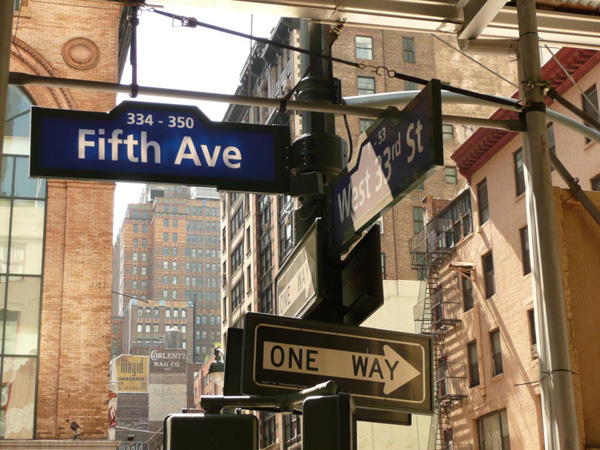 The picture is of a sign pointing toward Fifth Avenue, New York. [Photo/IC]
Hong Kong and New York offer the lowest returns for offices among the world's major markets even as prices increase because of demand for high-quality properties, according to global property agent Savills Plc.
Grade-A commercial properties in Hong Kong's central business district yielded 2.85 percent and New York's 3.29 percent after excluding tenant incentives, the Savills/Deakin University World Office Yield Spectrum, released on Monday, showed. San Francisco and Singapore had the highest effective yields, at 5.39 percent and 4.85 percent respectively.
"Pension funds, sovereign wealth funds, insurance companies and even high net worth individuals are all contributing to the weight of money chasing real estate assets" and boosting prices in Asia, Savills said.
"The search for top-tier properties that offer investors peace of mind continues to win out over the quest for higher yield" in the United States, the study showed.
Effective yield, which deducts incentives from market rents, is derived by dividing the net income from the property by its value and is expressed as a percentage. Yields drop when prices rise faster than rents.
The decline in yields in Hong Kong has been driven by low supply of investment-grade buildings, said Simon Smith, senior director of research for Asia-Pacific research at Savills. Foreign buyers are pushing into prime US real estate to benefit from the country's economic rebound.
When incentives offered to tenants are not deducted from rents, Hong Kong and Tokyo had the lowest yields, while San Francisco and Sydney had the highest. In Tokyo, investors are attracted by Prime Minister Shinzo Abe's aggressive monetary easing and improving occupancies. Japan's policies, dubbed Abenomics, have drawn international investors including Blackstone Group LP and Singapore's sovereign wealth fund GIC Pte, to the real estate market and boosted values.
London had the lowest yields among major Western European cities when incentives were excluded from market rents, and Berlin the highest, the report showed. Across large Asian cities, Taipei had the lowest yield and Ho Chi Minh the highest. Among major US markets, New Jersey offered the lowest and Tampa Bay in Florida the highest yields.