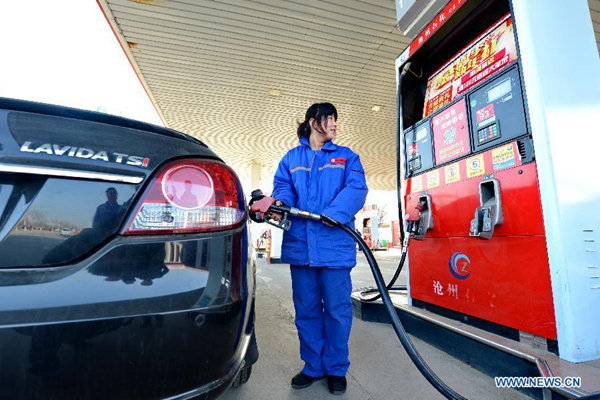 A worker fills up a car with fuel at a gas station in Cangzhou, north China's Hebei Province, Feb 9, 2015.[Photo/Xinhua]
BEIJING -- China's top economic planner on Monday announced the retail price of gasoline would be raised by 290 yuan ($47.3) per tonne and diesel by 280 yuan per tonne, snapping the trend of 13 consecutive cuts since July.
The adjustment that will come into effect on Tuesday means retail prices will edge up by 0.21 yuan per liter for gas and 0.24 yuan per liter for diesel, according to the National Development and Reform Commission.
In 2013, China adopted a pricing regime that adjusts domestic fuel prices when international crude prices change by more than 50 yuan per tonne for 10 working days.
According to data from the General Administration of Customs, China imported 308.4 million tonnes of crude oil in 2014 worth $228.3 billion.
Some oil companies' decisions to cut capital spending and the recent robust job creation pace in the United States both contributed to higher oil prices, said Wang Yanting, an analyst with JYD Online Corp., a Beijing commodity e-commerce platform.
"The travel boom during the upcoming Spring Festival holiday in China will mean higher energy consumption, but the room for further increases in the short run is limited," Wang said.