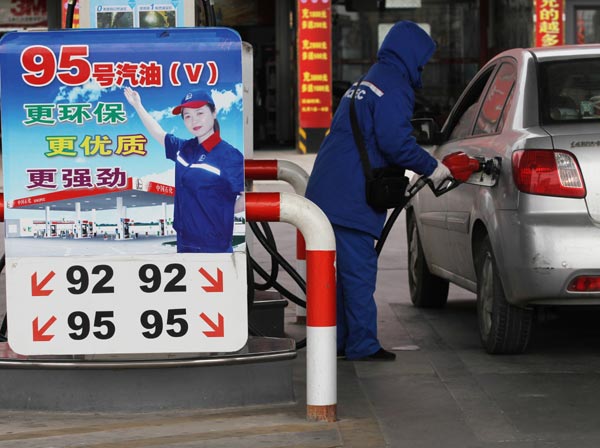 A gas station in Fuyang, Anhui province. [Photo/China Daily]
As the global price of crude rose last week after a seven-month plunge, the National Development and Reform Commission announced on Monday that China's retail gasoline price will be raised by 290 yuan ($46.58) a metric ton, or 0.21 yuan a liter, and the diesel price by 280 yuan a ton, or 0.24 yuan a liter, starting Tuesday.
This round of price adjustment will be the first jump after 13 cuts in a row since July, when global crude prices started to fall.
The commission has cut the retail price of oil twice this year.
Under the current retail oil pricing mechanism, the commission, the nation's top economic planning agency, will announce the next price adjustment on Feb 27.
Li Yan, a crude analyst with Shandong Longzhong Information Technology Co Ltd, predicted it is likely to be another price rise or will remain unchanged.
Xu Ying, an oil product analyst with the consultancy, said that there is still is big possibility that the global crude price will fall. Added to the fact that the domestic oversupply situation remains, it is risky for traders to increase their stocks at the moment.
US benchmark West Texas Intermediate for March delivery rose 65 cents to $52.34 and Brent crude for March rose 35 cents to $58.15 in mid-morning trade on Monday.
Last week, WTI surged 13.6 percent and Brent added 9.4 percent, the biggest weekly increase since February 2011.
Related story: Oil slump likely to benefit Chinese economy, by Dai Tian, chinadaily.com.cn
The recent oil price plunge may increase Chinese GDP growth by 0.1 to 0.3 percentage points and keep inflation down, said economists.
Dragged by a supply glut and US dollar appreciation, oil price will likely fluctuate between $40 and $60 a barrel this year and benefit Chinese economy with an increasing trade surplus, said Xie Yaxuan, chief researcher for China Merchants Securities.