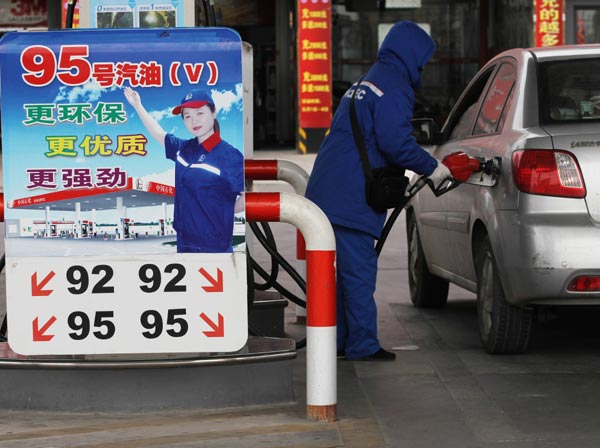 A gas station in Fuyang, Anhui province. [Photo/China Daily]
With global crude prices soaring over the past four days after a seven-month plunge, China is poised to raise its retail oil price on Feb 9, the first price increase since July of last year.
The retail oil price will rise by around 280 yuan ($44.92) per metric ton, or 0.21 yuan a liter for gasoline and 0.24 yuan a liter for diesel on Monday, according to Shanghai-based energy information consultancy ICIS C1 Energy.
Liang Dan, oil products analyst with C1 Energy, said this round of oil price adjustment is caused by investors' restock. Shandong province, where most of China's refiners are located, has raised wholesale prices of refined oil products for several times on Tuesday.
According to C1 Energy, the wholesale price of gasoline increased to 5,616 yuan a ton on Tuesday, up 144 yuan a ton from Jan 30.
Related story: Oil slump likely to benefit Chinese economy, by Dai Tian, chinadaily.com.cn
The recent oil price plunge may increase Chinese GDP growth by 0.1 to 0.3 percentage points and keep inflation down, said economists.
Dragged by a supply glut and US dollar appreciation, oil price will likely fluctuate between $40 and $60 a barrel this year and benefit Chinese economy with an increasing trade surplus, said Xie Yaxuan, chief researcher for China Merchants Securities.
Oil price plummeted 50 percent in the past year, as Organization of Petroleum Exporting Countries (OPEC) refused to cut production and US output reached a three-decade high according to Bloomberg.
"We estimate that if oil prices stay at current low level through this year, Chinese CPI could be 0.3 to 0.4 percentage points lower and GDP growth 0.2 to 0.3 percentage points higher," said UBS chief China economist Wang Tao in a note in January.