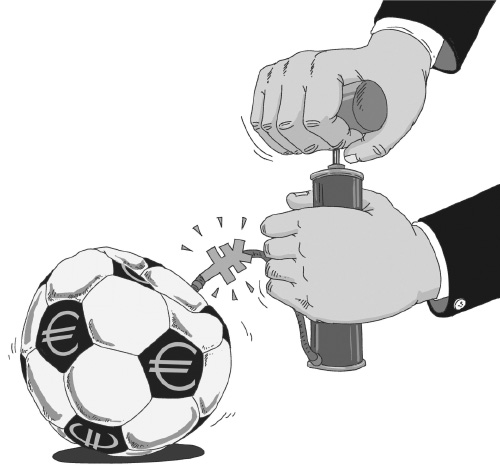 Chinese injection of cash into Spanish club is good news for cash-strapped football clubs in Europe
So the European Central Bank plans to inject about 1 trillion euros ($1.14 trillion) in order to reflate the persistently sluggish eurozone economy. Good news for the European economy generally, but can government and public sector money-pumping really establish self-perpetuating economic growth? Or is it just one important contributory factor that works best in partnership with substantial capital investment from the private sector?
Economic history points to the latter.
Dalian Wanda's announcement of a 20 percent purchase of European soccer club Athletico Madrid provides, therefore, equally positive news for the European economy.
This latest European investment by Wanda, one of China's largest conglomerates, with roots in the property business, will result in a much-needed injection of $52 million into the ailing Spanish economy.
Not that Wanda's latest European venture should come as a complete surprise, even though it is the first stake by a Chinese investor in a big European soccer club. Wanda also recently signed an agreement for a major construction project in London at a cost of $625.6 million.
Also last year, Wanda paid 320 million pounds ($484 million) for the prestigious UK luxury yacht builder Sunseeker, and the year before paid $2.6 billion for the United States-based cinema chain AMC.
Clearly, the ECB owes Wanda and many other Chinese companies a huge debt of gratitude for their continued and substantial investment across Europe and the eurozone in particular.
In total, Chinese companies announced 79 takeover deals in Europe last year, with an average worth of $249 million. Furthermore, the five largest deals done by Chinese investors in Europe were worth $6.6 billion last year, compared to only $1.4 billion for European companies.
But is Wanda's most recent and sizeable stake in the European soccer industry more significant and portentous than it might appear? Is it just another European investment or perhaps the beginnings of many more similar deals between cash-rich and investment-hungry Chinese corporates and Europe's debt-ridden soccer industry?