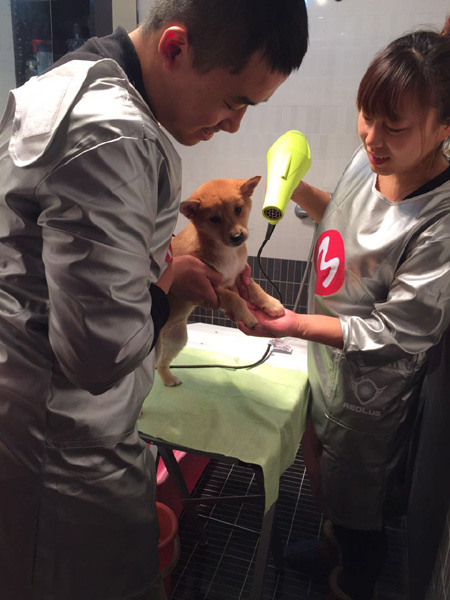 Pet groomers from Momoda, an app sending professionals to pet owners' home to provide services, dry a pet dog in Beijing. [Photo provided to China Daily]
Thanks to Internet technology that matches freelance workers, such as housekeepers and manicurists, with demand for lifestyle services, the online-to-offline industry has become a well-paid sector with salaries topping those of white-collar professionals, says a recent report.
A report released in early January by classified ad website ganji.com showed that the average monthly salary for O2O freelancers, who offer services after receiving orders online, reached 8,300 yuan ($1,333) in 2014 compared with the average of 7,200 yuan for white-collar workers in Shanghai, the nation's business hub.
A growing number of entrepreneurs and investors are betting on a rosy future for O2O business in China, creating all kinds of mobile applications answering various demands, ranging from pet grooming to food delivery.
Sixty-eight percent of the 3,000 O2O freelancers surveyed by ganji.com earn more than 5,000 yuan a month, with 9 percent racking up more than 10,000 yuan, the report says.
The highest payment goes to automobile assessors, who provide professional services in assessing the value of cars, with their monthly income averaging more than 16,600 yuan.
The decent salaries on offer are proving attractive to people who desire greater independence in their working life. The report found that around 55 percent of O2O service providers are young adults aged between 21 and 35, with those in their early 20s accounting for 26 percent.
The report also established a link between their educational background and career pursuits. It revealed that most people who engage in this new type of occupation are vocational school graduates, with 79 percent of them possessing a professional skills certificate.
When it comes to job satisfaction, nearly 40 percent of self-employed O2O workers like their job, citing freedom and flexibility as the main reasons.