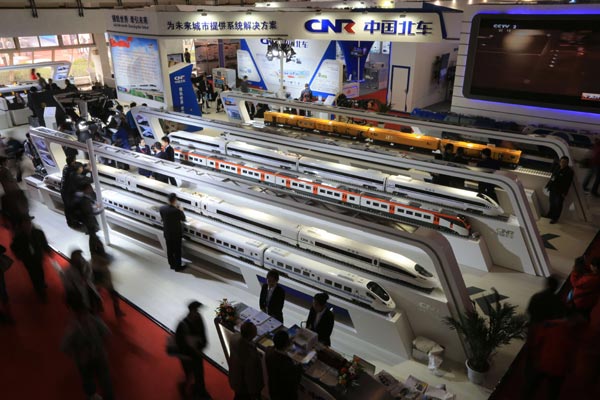 Models of CNR Corp Ltd's high-speed trains on display at a railway technology and equipment expo in Beijing. The planned merger of CSR Corp and CNR Corp is subject to antitrust reviews by other governments. [Photo/China Daily] 
The merger of China's two biggest rolling stock producers faces intense antitrust scrutiny around the world, analysts said, with the combination of CSR Corp Ltd and CNR Corp Ltd likely to create the globe's largest trainmaker by sales.
The German Federal Cartel Office, for example, said on its website that the agency received a notification of the merger on Jan 5.
The two companies may have submitted pre-merger notifications to more international antitrust agencies and the case may need to be reviewed by more countries as the size of the deal will affect related markets, said analysts. Neither company could be reached for comment.
The merger will create a company with about $31 billion in revenue, which exceeds the three largest Western players' revenues combined, said a Moody's Investors Service Inc report. CNR generated 96.8 billion yuan ($15.4 billion) of revenue in 2013, while CSR reported sales of 96.5 billion yuan.
By comparison, the revenue of Germany-based Siemens AG totaled $9.2 billion in its most recent fiscal year. Canada-based Bombardier Inc reported $8.8 billion of sales and the figure for France-based Alstom's transportation equipment division stood at $7.5 billion.
The two Chinese companies have won contracts for regional and commuter trains in Southeast Asia and other emerging markets in recent years, said Zou Jiming, a Shanghai-based analyst at Moody's.
CNR won a $570 million contract to supply passenger cars to Boston's subway system last year, Chinese manufacturers' first US rolling stock order.
Both companies have yet to win rolling stock contracts in the European market since the region has mature manufacturers and stringent requirements for market entry. Asian players such as Japan-based Hitachi Ltd's Hitachi Rail and South Korea-based Hyundai Motor Co's Hyundai Rotem have been able to gain a slice of the market, according to analysts.