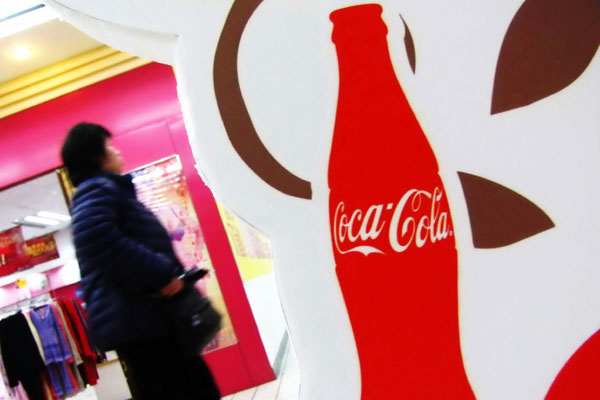 A woman passes by a Coca-Cola advertisement on Jan 26, 2013 in Shanghai.[Photo/Asianewsphoto]
The Coca-Cola Co confirmed on Tuesday that it will cut jobs in China as part of a global layoff program, which is intended to help the beverage giant become leaner and faster in response to fierce competition with local rivals.
"We are redesigning our operating model to streamline and simplify our structure and accelerate the growth of our global business. This redesign will impact on jobs across our global operations, including some impact in China," according to a statement released by Coca-Cola China.
The statement said that the redesign affects only the company's direct operations, and there will be no impact on its bottling companies in China or around the world.
Globally, the company is cutting 1,600 to 1,800 jobs. According to its third quarter results for last year, released on Oct 21, its net revenues declined 2 percent.
According to Zhu Danpeng, a researcher at the China Food Business Research Center, the Chinese mainland is a highlight among all regions for Coca-Cola.
In the second quarter of last year, growth in the nation was 9 percent, much higher than the company's global average. Its carbonated drinks segment, a drag on its global business, recorded 10 percent growth in China.
The company has been in a leading position in the carbonated drinks market. According to market research firm Euromonitor International, Coca-Cola held 64.5 percent of the market in China for carbonated drinks in 2013, followed by PepsiCo Inc at 27 percent and Hangzhou Wahaha Group Co Ltd at 2.8 percent.
Despite its dominant position, carbonated drinks overall have seen a decline in sales. According to Kantar Worldpanel, the soft drink market has experienced a significant shift in consumer preferences over the past two years.
In 2014, the total beverage sector grew by 6.2 percent, but carbonated soft drink sales fell 3.2 percent by value. The emerging categories, such as vegetable protein drinks, functional drinks and herbal teas, posted double-digit growth rates of 29 percent, 17 percent and 15 percent, respectively.
Jason Yu, general manager of Kantar Worldpanel, said the trend reflects the fact that Chinese consumers are increasingly opting more for drinks with higher added value and health benefits.
He said the streamlining will enable Coca-Cola to get closer to consumers, put locally developed innovations into the market faster, and help Coca-Cola to be more agile in the fierce competition with local players, which are much more aggressive in launching new flavors, packages and variants.