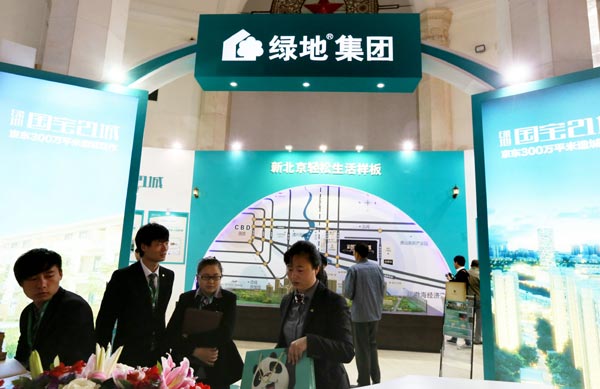 The booth of Greenland Group at a property expo in Beijing last year. The company is planning to launch a range of seafood products from the South Korean island province of Jeju through its huge network of retail outlets. [Photo/China Daily]
Greenland Group, China's largest real estate company, is planning to launch a range of seafood products from the South Korean island province of Jeju through its huge network of retail outlets, which include boutique supermarkets, online shops and hotels.
The Shanghai-based State-owned firm signed a deal on Monday to initially import around 15 million yuan ($2.42 million) of products a year, with Jeju Governor Won Hee-ryong.
A statement from the company said that figure is expected to rise to 250 million yuan a year as other products from Jeju are added, such as cosmetics, health foods and fresh agricultural goods.
To help promote the lines, Greenland said it plans to build 10 dedicated imported-goods shops this year, which could be expanded to more than 50 by 2018.
The deal is part of Greenland's overall strategy to expand into international trade.
It has signed a cooperation deal with a major State-owned firm in the China (Shanghai) Pilot Free Trade Zone to import and export products, and is in talks with Australian companies to acquire food, dairy and wine interests.
The Greenland move is the latest by a major Chinese property firm to diversify their business as real estate prices continue to slide at home. Evergrande Group, the country's fifth-largest developer by sales value, has also been showing strong interest recently in consumer-related investment including grain, dairy products, cattle farming and bottled water.
The agreement with Jeju also illustrates Greenland's growing appetite to expand overseas.
It has invested about $20 billion in international projects since 2013, including the US, Australia and the UK. Its 15.3 billion yuan of global sales last year helped it overtake China Vanke Co as the country's largest developer.
However, Standard & Poor's revised the company's outlook to negative from stable in September, warning that "Greenland Group's aggressive growth appetite and debt-funded expansion will constrain its financial risk profile in 2014 and 2015".
In August, Jeju's government awarded 0.31 square kilometers of land to Greenland to expand its existing healthcare and hospitality facilities. It is also planning to build a development called "Dream Tower" on the island.
Jeju is a popular destination for Chinese tourists. Of the 12 million visitors to the island last year, 86 percent were Chinese.
The rapid influx of people and investment has sparked unease among local residents, however.
Wong previously made various statements against allowing more Chinese investors during his bid for the governorship, but since taking office he has vowed to welcome Chinese investment.
He told the media during a visit to China that he hopes to "combine the Chinese Dream with the South Korean dream, to form the East Asian dream".