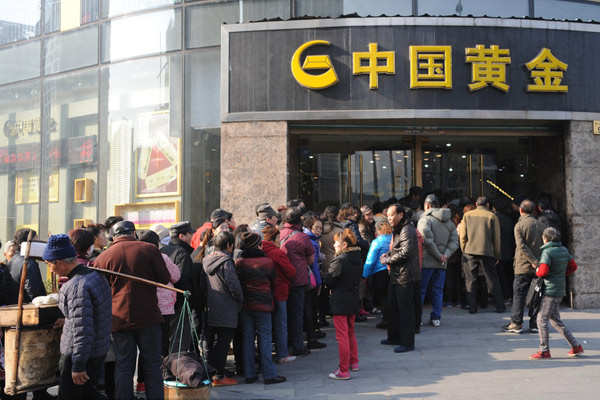 Customers line up in front of a gold promotion store before it opens in Shanghai, Dec 30, 2014. [Photo/IC]
With just 9.9 yuan ($1.6), the first 100 customers at specific gold outlets in Shanghai can buy 0.1 gram of the yellow metal until Jan 3, 2015.
Followers of the official WeChat account of Shanghai Gold Co Ltd, the event organizer, can buy the gold slice for just 9.9 yuan, said Liu Xiaoyan, a staff member in the promotion department of the company told chinadaily.com.cn by phone on Wednesday.
As part of the New Year celebrations, 10 gold stores in Shanghai are taking part in the event with the aim to expand the brand influence by selling the yellow metal at such a low price, Liu added.
Wednesday's base gold price was 241 yuan per gram, which was much higher than the promotion price, according to another employee in one of the promotion stores.
The special offer attracted customers who lined up in front of the outlets before the doors were even open. This is not the only gold promotion announced by retailers.
To welcome Christmas Day, a jewelry store launched an event called "Exchanging Apples for Gold" in Zhengzhou city, capital of Central China's Henan province on Dec 23.
It offered a small piece of gold in exchange for two apples. That promotion attracted so many customers that the line outside the outlet stretched even to more than 10 meters.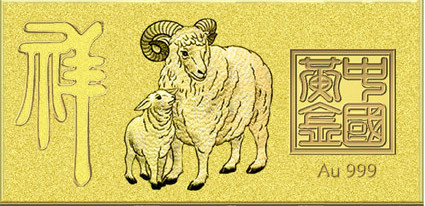 File photo of the gold that customers can buy with just 9.9 yuan. [Photo Provided to chinadaily.com.cn]