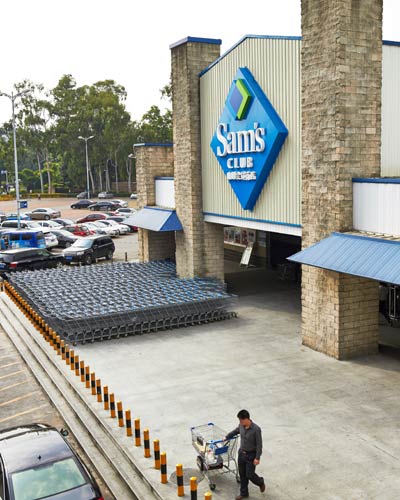 Sam's Club membership store in Fuzhou,Fujian province. The membership-only warehouse format already has more than 1.3 million members in China,both individual and business shoppers. [Provided to China Daily]  
Seven outlets planned in China over next three years to boost performance
Wal-Mart Stores Inc is expecting to open seven more of its high-end Sam's Club membership stores in China over next three years in a move that it hopes will help halt its declining performance in the country.
Andrew Miles, senior vice-president of Walmart China and chief operating officer of Sam's Club in China, said he has a clear idea of his target customers in China: high-income families who love to travel and many of whom have experience of shopping overseas.
The membership-only warehouse format already has more than 1.3 million members in China, both individual and business shoppers.
The first of the 11 Sam's Club stores in China opened in Shenzhen in 1996. There are 637 stores in the United States and 830 globally.
"We have been very clear about who are our target members and the direction we want to take," said Miles, after opening its latest club in Wuhan, capital of Hubei province, on Tuesday-very much new territory compared with its existing presence in first-tier cities.
Miles said that its membership warehouses have to be strictly disciplined about which products they offer to customers. A typical Sam's Club stocks less than 5,000 items, down 1,200 items from last year.
Leveraging Wal-Mart's massive global sourcing network to achieve direct sourcing is also one of the club's strengths. "We go directly to the source so we can be sure of the quality and get the best price for our customers," he said.
The ratio of self-owned brands offered within the clubs is expected to rise to 20 percent over the next three years from the current 6 percent.
"We try to bring our members new items they have not seen before. They come to the club stores not to get the cheapest price, but to get the newest and best-value products," he said.
Jason Yu, general manager of consumer information organization Kantar Worldpanel China, said that by charging members fees and offering larger baskets of exclusive, often imported goods, the clubs represent a very different market segment compared to traditional price-sensitive mainstream retailers.
The format is also bringing Wal-Mart itself additional clients and business growth opportunities, but he said it still needs to optimize costs within its hypermarkets in China, where it has recently been cutting jobs to improve efficiency and regain declining market share.
Yu said in China it is very hard to compete using the type of "everyday, low price" strategy that Wal-Mart has adopted in the United States.
The company has just cut 250 Chinese jobs and closed its regional office in Dalian. Last week, it dismissed around 20 mid- and senior-level executives as part of what it called an ongoing restructure of its head office in the country, adding it planned to open another nine new stores and one distribution center in China by the end of this year, bringing the total number of new stores and distribution centers opened this year to 31, which it said had created over 6,000 jobs.
Wal-Mart said it plans to open another eight such hypermarkets in Guangdong, Jiangxi, Yunnan, Jilin, Zhejiang and Sichuan provinces by the end of the year, bringing the total number of stores to 25.
It said it expects to open a giant 100,000-square-meter mall, at the cost of 600 million yuan ($97 million) in Zhuhai, Guangdong province, in 2016.