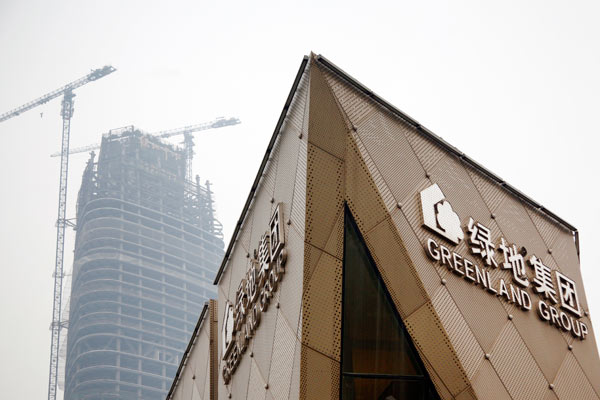 Chinese property developer Greenland Holding Group has broken ground for an affordable housing project in downtown Brooklyn with its US partner Forest City Ratner Companies. Provided to China Daily
Chinese property developer Greenland Holding Group has broken ground for a project that could be the largest real estate development plan in New York City for 20 years.
Greenland USA said on Monday that it is developing an affordable housing project in downtown Brooklyn with its US partner Forest City Ratner Companies.
The 18-story project at 535 Carlton Avenue will include 298 units "100 percent affordable" for low-, moderate- and middle-income households, according to Greenland Forest City Partners.
The affordable housing plan is part of a multitower Pacific Park Brooklyn project, which was previously known as the Atlantic Yards. Greenland Group said it will invest $4.9 billion.
With revenue of $41 billion last year, Shanghai-based Greenland is one of China's largest conglomerates focusing on energy, finance and real estate.
The developer entered the US market in 2013 as doubts hit the cooling market at home. After investing $1 billion in the Los Angeles Metropolis project in July, it took a major stake in the Pacific Park project last October.
The project at 535 Carlton Avenue falls under New York City's Inclusionary Housing Program.
Under the program's regulations, if new developments or floor area enlargements of more than 50 percent in designated areas allocate at least 20 percent of the residential floor area for affordable housing, developers can receive subsidies and a floor area bonus.
The affordable housing project, which is expected to open in the fall of 2016, is the second of its kind by Greenland Forest City Partners at Pacific Park.
Of the 6,430 units Greenland Forest City Partners is expected to deliver, more than one-third will be affordable housing.
Zhu Yiming, a senior analyst at China Real Estate Information Corp, said given that similar projects in developed economies have been operating at a profit, the profitability of the New York project should not be a major cause for concern.
Greenland's position in the capital market could boost the company's financial strength, Zhu said.
Part of the group's business has been listed in Hong Kong, and the company is seeking to list its entire business in Shanghai.
Yan Yuejin, a researcher at E-house (China) Holding, was more cautious. He said the rents of the affordable housing means it will take time to recover the investment.
Greenland's strength is focused more on developing "landmark" commercial properties, and it will also take time for the company to understand local practice and nurture local capability, Yan said.
"The value of the project for Greenland might be in 'testing the waters'. It wants to better understand demand in the US market, so it may focus less on profitability," Yan said.
Greenland Group Chairman Zhang Yuliang told The Wall Street Journal the firm needs to do more to fuel its global expansion, including familiarizing itself with local laws and taxes and adjusting its ambitions to the number of its employees.
"It's not just size. We want to improve the quality, efficiency and business model of the firm," he said.
An aggressive expansion drive has propelled the once-unknown Greenland Group onto the global stage. It has invested about $20 billion in overseas projects since 2013 and expanded into 13 cities in nine countries, including the United States, Australia and Britain.
Greenland said it expects its overseas revenue from presales-or sales of units before they are completed-to reach $3.9 billion this year.
Zhu said, "Greenland's State-owned enterprise status could be a help, including in overseas markets. But its internal management and incentive system-usually weak for SOEs-could be a potential drag."