Greenland inks London deal
Updated: 2014-01-08 01:55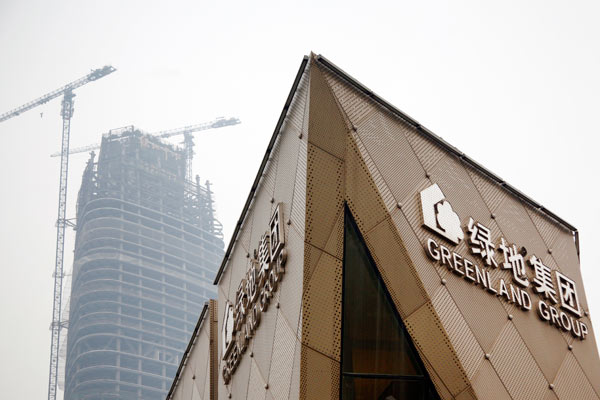 Shanghai-based Greenland Holding Group signed a contract to purchase the Ram Brewery development site in the Wandsworth area of London. The transaction with total investment value of about 600 million pounds ($985 million) represents Greenland's first acquisition in the UK. Provided to China Daily
Chinese State-owned developer Greenland Holding Group announced its 1.2 billion pound ($1.97 billion) investment in two overseas development projects in London on Tuesday.
The Shanghai-based group signed a contract in London with Minerva, the property investment and development group acquired by clients of Ares Management LLC and Delancey in 2011, to purchase the Ram Brewery development site in the Wandsworth area of London.
The transaction with total investment value of about 600 million pounds represents Greenland's first acquisition in the UK.
"Greenland has investments in almost all the Chinese cities, so globalization is a necessary choice for big companies like us," Zhang Yuliang, chairman and president of Greenland Group, told China Daily.
"As more Chinese companies, students and visitors go outbound, we also need to promote our overseas development," he added.
Greenland is among several high-profile property companies that went global last year, purchasing big real-estate projects in cities like New York and Los Angeles.
The historic Ram Brewery was originally acquired by Minerva in 2006 for redevelopment.
The 7.75-acre (3.1 hectare) Ram Brewery development is being sold with outline planning permission for 661 new homes, including a 36-story landmark tower providing 166 apartments and commercial space for shops, cafes, bars and restaurants.
Besides that development, Greenland will be investing in a high-end residential housing project at London's Canary Wharf. More details on that project will be announced at the end of the month, the company said.
"London is the global financial center, as well as being an open and diversified city that enjoys a mature economic development, making it our top option for investment in Europe," Zhang said.
Due to active trading in London real estate over the past two years, Zhang said, the average residential price rose by 10 percent in 2013, and demand is expected to rise in 2014.
More and more individual investors are favoring the UK market, thanks to a stable return on investment, high-quality assets and sound market liquidity, Zhang explained.
"We are delighted that our efforts to date, together with Greenland's world-class development expertise, will mean that this long-awaited scheme finally happens for Wandsworth," said Paul Goswell, managing director of Delancey.
Guy Grainger, UK CEO of Jones Lang LaSalle, which aligned Minerva with Greenland, described the project "a landmark transaction for the London residential market".
"This deal emphasizes the strong relationships currently being created between the UK and China, and further highlights London as the No 1 destination for international capital," he added.
Real estate is a "hot spot" for Chinese companies investing in the UK, said Zhou Xiaoming, minister counselor of the Chinese embassy in the UK.
Greenland joins such Chinese developers as the Dalian Wanda Group, which announced last June that it will build a luxury hotel and apartment building on the South Bank of the River Thames.
Last May, commercial developer Advanced Business Park (China) Holdings Group Co Ltd signed a $1.51 billion deal with Boris Johnson, mayor of London, to develop a 14-hectare complex of offices and shops at the Royal Albert Dock.
Greenland is one of the biggest developers in the world, with approximately 600 million sq ft of large-scale commercial and residential projects currently under construction in 80 cities throughout China, as well as real estate projects in South Korea, Thailand, Australia and the US.