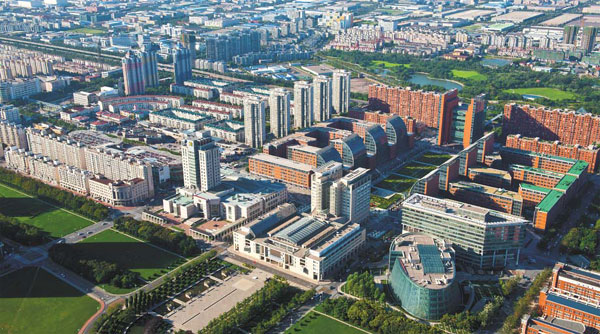 The Tianjin Economic-Technological Development Area is home to more than 14,000 companies with 560,000 employees. [Provided to China Daily]
Service-orientated model drives area's 30-year growth
When former Chinese leader Deng Xiaoping visited the Tianjin Economic-Technological Development Area in 1986, two years after it was founded, he wrote an inscription saying that the area was "a promising land".
As he anticipated, the area, which marks its 30th anniversary on Saturday, has become a modern urban complex, which combines industries and living facilities. The area is commonly referred to as TEDA.
TEDA is about 40 kilometers away from the city center and was one of the first national-level development zones approved by the State Council.
The former beach area was about 40 square kilometers 30 years ago but has grown 10 times bigger and is home to more than 14,000 companies with 560,000 employees and generates 250 billion yuan ($40.8 billion) in GDP a year.
More than 4,000 foreigners work and live in the area alongside about 550,000 Chinese people.
TEDA has been a leader among national-level development zones since 1997, in terms of main economic indexes and comprehensive development, said officials from the local administration.
The area's robust growth can be partially attributed to an investor-centered overall concept that sees projects as "lifelines", said Xu Hongxing, chairman of the TEDA Administrative Commission.
"Everyone here knows the popular slogan, which says that service is also productivity," he said. "We provide services to the investors and let them gain profit."
The service-oriented management model is copied in other regions, he said.
With technology and investment from overseas and homegrown innovation, TEDA has upgraded its industrial structure from lower-end processing to one that covers IT, auto making, equipment manufacturing and biopharmaceutical industries.
Local products include cellphones, flat-panel displays and TVs, wind power equipment, lithium batteries, solar batteries, insulin, enzymes, instant food and bottled water.
The service sector is also on the rise, along with the growth of the local real economy. Modern service now accounts for 23 percent of the local economy, covering financing, trading and logistics.
Economic development has not been achieved by sacrificing the environment, as the local administration believes that ecology is "a welfare equally shared by all people".
Energy consumption per unit GDP in the area is one-sixth of the nation's average, said Xu.
In 2007 the local government created an annual budget of 100 million yuan to support energy-saving and environmental protection projects. The economic zone was one of the first in China to introduce the EU Switch-Asia project, an industrial symbiosis program that focuses on energy efficiency.
The area developed China's first facility that uses chemical exhaust fumes to generate heat and power and introduced a third-party pollution control mechanism to achieve "zero discharge" of industrial sewage.
Tianjin's authorities launched a series of reforms according to the latest national strategy, which calls for coordinated development between Tianjin, Beijing and Hebei province.
As a core function zone of the Binhai New Area, TEDA will "mutually complement other zones to create an economic growth pole with characteristics", said Xu.
He added that there would be more projects such as headquarters, R&D centers and cultural and creative industries in TEDA's expanded areas.
TEDA has attracted more than 800 companies from Beijing, 130 of which moved in 2013. Most of the firms are in the creative and high-tech businesses.
Several top professionals started their careers in Beijing but have moved to TEDA due to local preferential policies for people and industries, said Xu.
He said that there would be 200 high-tech leaders in the area in three to five years, each with an annual output value of more than 500 million yuan.