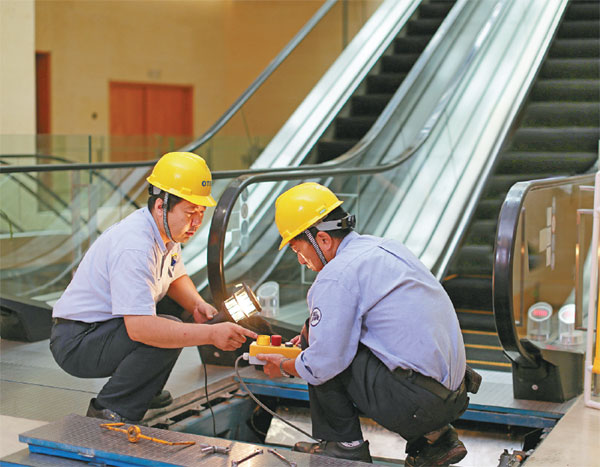 Two of Otis' Chinese technicians doing repairs in Tianjin. The maintenance and service business in China is expected to give a lift to the industry. Long Wei / For China Daily
Elevator company confident of strong growth in domestic market
Skyscrapers and imposing buildings are a common sight in most first- and second-tier Chinese cities. But with growth mushrooming and urbanization going into overdrive, demand for big buildings and high-speed elevators is also spiraling in China, says Tony Black, president of Otis Elevator (China) Investment Co Ltd.
Black has done his arithmetic well. China is already the world's largest manufacturer and seller of elevators, with annual demand growing an average 20 percent over the past decade.
The number of elevators and escalators sold in China in 2013 alone was about 600,000 units, according to data from the China Elevator Association.
Beyond the big numbers, Black says, China is now a major battlefield for foreign and domestic elevator firms due to the rapid pace at which tall buildings are rising. "The demand for lifts in China is not just about being fast but also about going farther," he said.
In 2012, Black, a 30-year veteran, was deputed to oversee the US-based Otis Elevator Co's operations in China. Though he was a little bit apprehensive initially, Black says it was the "single most-important step in his career".
"China is already the world's largest market for new elevators and escalator installations. It will also not be long before it becomes the largest elevator/escalator service market. It is getting closer to the target," he said.
Black, however, knows that grabbing a bigger slice of the growing elevator pie may not be that easy.
The top priority for Otis is to double its footprint in the next five years, so that the company can keep pace with the rapid urbanization in China.
"Big cities will grow with even more skyscrapers, while small cities will have a vertical orientation," he said.
That said, Black is also happy with some major accomplishments in China. Otis has concluded deals with a long list of landmark projects like the Tianjin Goldin Finance 117 Center, a 117-story building under construction, and Ping'an Financial Center, a 115-story skyscraper under construction in Shenzhen, Guangdong province.
"These are not only good for business but also good for our brand image in the long term, because it shows the confidence that customers have in us," Black said.
"Maintaining the top slot in China is tough. We need to be close to our customers in the industry, and the measure of success is often gauged by the speed of our response," he said.
Black, who started working with Otis at the grassroots level as a service mechanic and traversed through other departments like repair and installation in his more than three decades of service with the company, believes that service is what will separate the leader from the rest of the pack.
"Service is all about two things. It is about preventing callbacks and shutdowns, and being able to respond quickly when there is a problem," he said, adding that he personally monitors the company hotline to see how fast Otis responds to customer queries and complaints. "In most of the cases our response levels have been quite satisfactory."
The company has recently set up a large spare parts center in China which can despatch parts within 24 hours to anywhere in the country.
Otis has more than 2,000 service mechanics and about 300 branches and service offices in China. Black, however, said that the company would increase both by 20 percent in the next few years.
Zhang Lexiang, deputy secretary-general of the China Elevator Association, said though most of the profit in China's elevator industry comes from new installations, there is enough room for further growth in the service market.
"About 65 percent of the global market for new installations is in China. The after-sale service market will also clock a high growth rate as the number of aging and overused elevators increases," he said.
Zhang said China would need to strengthen regulations and oversight of the elevator maintenance market, as it is important for long-term industry safety.