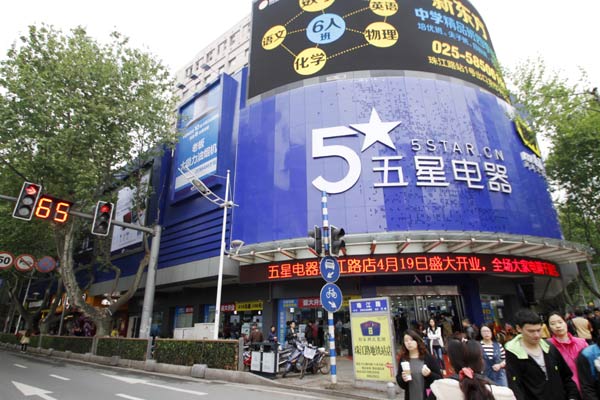 A Five Star store in Nanjing, Jiangsu province. Best Buy Co Inc entered the Chinese retail market by purchasing a majority interest in Jiangsu Five Star in 2006 and now operates 184 stores in China, all under the Five Star brand. [Photo/CHINA DAILY]
US company sells Five Star chain to Jiayuan Group for undisclosed sum
Best Buy Co Inc, the largest US consumer electronics chain, said on Thursday that it was selling its struggling China business-Five Star-to domestic real estate firm Zhejiang Jiayuan Group.
Though the move signals a complete exit from China for Best Buy, it will still retain its private label operations in the country, said company officials. Best Buy did not disclose any financial details of the transaction.
Hubert Joly, president and chief executive officer of Best Buy, said the retailer had been working constantly to improve its business in China during the last two years. Best Buy was approached recently by Jiayuan Group, a respected Chinese investment firm, with plans to acquire and further expand the Five Star business.
Best Buy entered the Chinese retail market by purchasing a majority interest in Jiangsu Five Star in 2006 and now operates 184 stores in China, all under the Five Star brand.
Jiayuan Group has agreed to work with Five Star Chief Operating Officer Yiqing Pan, who will become the chief executive officer of Five Star after the deal.
"The sale of Five Star does not suggest any similar action in Canada or Mexico. Instead, it allows us to focus even more on our North American business," said Joly.
"We will continue to invest in and grow our China-based private label operations, with brand names that include Dynex, Insignia, Modal, Platinum and Rocketfish."
The transaction, which is subject to regulatory approval, is expected to close in the first quarter of fiscal 2016. The sale of the Five Star business is not expected to have a material impact on the results of operations, financial position or cash flow of Best Buy.
Ben Cavender, principal of the Shanghai-based China Market Research, said Best Buy has been struggling in China since the time they entered the market.
In China, Best Buy has not been able to achieve the same kind of brand awareness and consumer recognition it enjoys in the United States, said Cavender. The cost of being a brick-and-mortar store is very high in China, not to mention the fierce competition with local home appliance retailers like Suning Commerce Group Co, Gome Electrical Appliances Holding Ltd and rising e-commerce giant JD.com, he said.
"It makes sense for them to exit the market as it would have proved expensive for the retailer to develop the market on its own," he said.
Cavender said Best Buy's main selling point in the United States-the store warranty-was not working in China where consumers are only familiar with the manufacturer warranty and are still price sensitive.
Suning, Gome and JD.com have already developed close connections with local manufacturers and customers. Best Buy, on the other hand, was often considered an outsider in the local market, said Cavender.