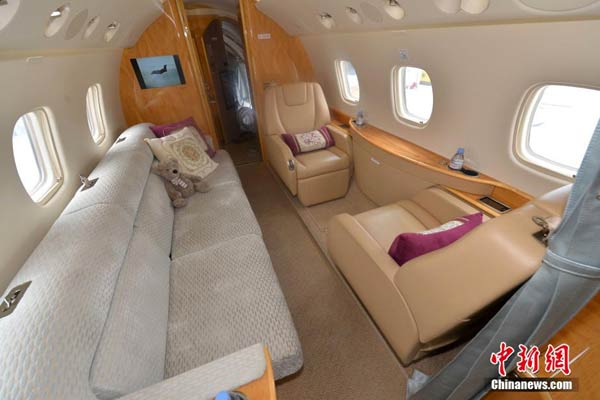 A business jet's cabin is pictured at the 5th Hainan Rendez-Vous, jets, yachts and life classics show in Sanya, South China's Hainan province on March 27, 2014. [Photo / Chinanews.com]
China Minsheng Investment Corp Ltd, the nation's first large private investment company, has completed the acquisition of Minsheng International Jet and Asia United Business Aviation Limited, and is now set to become the country's second-largest private business jet charter after NetJets Inc, a US subsidiary of Warren Buffett's Berkshire Hathaway.
Minsheng Investment has acquired 61.25 percent of Minsheng International Jet for 1.19 billion yuan ($194 million).
The company became Asia's largest business jet leasing firm after it fully acquired Asia United Business Aviation Limited.
Officials said Minsheng International Jet is now looking to establish a network of business jet operations geared towards the Chinese market and has outlined an ambitious expansion plan under which it hopes to increase its fleet to 500 aircraft over the next five years.
US general aviation company NetJets made a significant inroad into the Chinese market in September after it gained operational approved.
The two companies are now likely to compete head to head in a private business jet market with huge potential. China is expected to have more than 5,000 business aircraft operational by 2020, with overall assignments logged at 2 million hours a year, a growth rate of 19 percent on current levels.
Domestic market demand for business jet services is set to reach $15.5 billion, following the recent policy easing on opening up of low-altitude airspace, according to the Civil Aviation Administration of China.