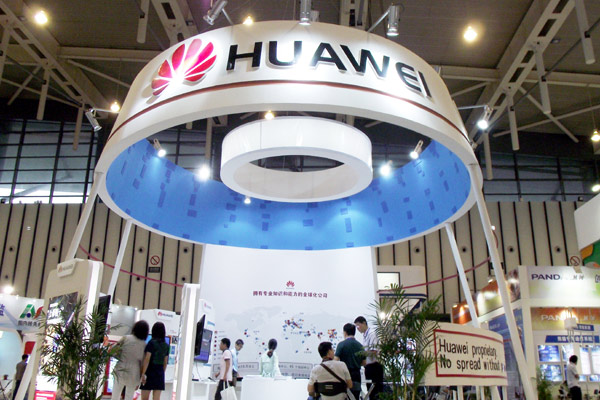 The booth of Huawei Technologies Co at a software industry expo held recently in Nanjing, capital of Jiangsu province. Huawei broke into the world's most valuable brands for 2014 for the first time, ranked 94th. [Zhen Huai / For China Daily]
The Interbrand Best China Brands 2014 report has just been released detailing the progress of Chinese brands.
According to Interbrand's valuation methodology, the total brand value of this year's top 50 Best China Brands increased 22 percent year-on-year, the largest increase since the inception of Best China Brands some 15 years ago.
Internet companies and financial services brands dominate this year's rankings with Tencent Holdings Ltd and China Mobile Communications Corp claiming the first and second positions.
Major banks and insurance brands are close behind. China Construction Bank Corp, Industrial and Commercial Bank of China Ltd (the largest bank in the world by market capitalization), Bank of China Ltd, Ping An Insurance (Group) Co of China Ltd and China Life Insurance Co Ltd took fourth through eighth places.
Tencent, founded in 1998, has grown into one of China's largest Internet service portals with platforms that include WeChat (mobile text and voice messaging), QQ (instant messenger) and Tenpay (online payments).
As of August, WeChat had 438 million active users, with 70 million outside China.
Tencent's brand value for 2014 is estimated at $54 billion, double last year's level. Tencent is the most valuable and fastest-growing Chinese and Asian brand as well as the fastest-growing brand in the world.
Tencent's success may offer a lead to and inspire confidence among China's young, privately owned entrepreneurial companies in many sectors.
Tencent's ranking is proof that Chinese industry continues to change, with modern, market-driven and privately owned companies building increasingly competitive brands, domestically and internationally. These companies don't benefit from any public monopolies such as those held by the State-owned enterprises.
Excitement, respect and attention are due to this year's eight new entrants as well.