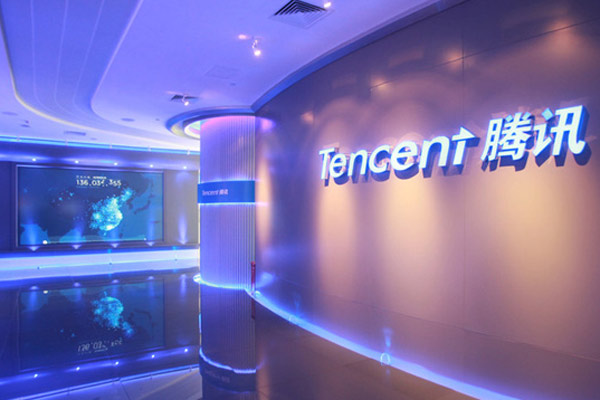 A logo of Tencent is seen at the headquarters of Tencent in Shenzhen city, south China's Guangdong province, 29 March 2013. [Photo/IC]
The recent crash of Virgin Galactic's passenger spaceship has done little to quench many people's aspirations of exploring space, nor interest from Chinese investors in the idea, according to a leading provider of adventure, high-altitude travel.
Jane Poynter, co-founder and chief executive officer of the Tucson-based World View Enterprises Inc, which operates high-altitude balloons that offer what it calls "an accessible, affordable way to access nearspace", said in Beijing on Saturday that the company has just received another round of investment from those still excited about space travel technology, including from Chinese Internet giant Tencent Holdings Ltd.
She said David Wallerstein, senior executive vice-president and chairman of Tencent USA, has already met with one of World View's pilots and exchanged ideas on future technology, and that she considered the passion and contribution that Tencent could give to the project of huge significance to her operation.
World View is currently in the process of planning suborbital spaceflights for $75,000 per seat, which it hopes to launch in 2016.
Unlike other companies that send people into space with rockets, World View uses balloons and space capsules which carry passengers slowly to nearspace and then bring them down to Earth using huge parachutes.
Interest in space travel has accelerated fast in recent years. Arguably the two best-known projects are Sir Richard Branson's Virgin Galactic and XCOR Aerospace, a small, privately held California-based corporation that is developing similar trips on rocket-propelled vehicles, which it also plans to make affordable for private citizens.
Both have received investment from global Internet giant Google Inc.
Zhang Zhidong, co-founder of Tencent, said in March when he resigned from his position as chief technology officer, that he considered Google one of the world's pioneering forces in the information technology industry.
Google has already invested heavily in unmanned cars, hot-air balloons, and even space mining, some of which was spent when the company was nothing like the size it is today.
Zhang suggested that Tencent should follow Google in this respect, a path not necessarily in line with what many see as the company's more sensible investment route.
Pony Ma, Tencent's chairman, once said that his childhood dream had been to become an astronomer, after looking through a friend's telescope at outer space.
"Although we are running a commercial enterprise, we are also pursuing technological progress and realizing something which used to only exist in the imagination. This is a dream," said Ma.
Poynter's comments in Beijing come just days after a suborbital passenger spaceship developed by Virgin Galactic crashed during a test flight over the company's Mojave Air and Space Port in California, killing one pilot and seriously injuring another.
More than 800 people have already paid deposits to fly aboard the spaceship, which will be transported to an altitude of about 13,700 meters before being released.
The spaceship is based on a prototype called the SpaceShipOne, which won the $10 million Ansari X Prize a decade ago for being the first privately developed manned spacecraft to fly in space.