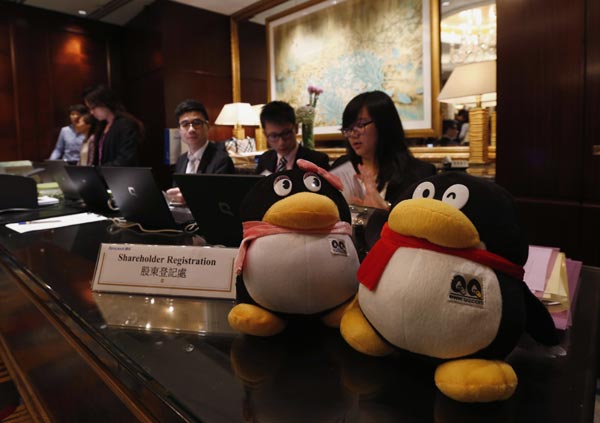 Mascots of Tencent are displayed at a registration counter during the company's annual general meeting in Hong Kong on May 14.Tencent seems to have succeeded in integrating its social networking tools with companies in which it invests. [Photo/Agencies]
Mobile platforms continue to give a lift to Internet company's portfolio
Tencent Holdings Ltd, China's largest listed Internet company, reported strong quarterly earnings on Wednesday as the company further deepened mobile engagement across its social, gaming and media platforms.
Net profit for the quarter ending in June jumped 58 percent year-on-year to 5.83 billion yuan ($947 million). Revenue in the quarter climbed 37 percent to 19.75 billion yuan.
The solid performance in the second quarter beat analysts' estimates of 5.73 billion yuan in revenue, a Reuters report said.
Ma Huateng, chairman and chief executive officer of Tencent, said in a statement that the company's ecosystem continues to expand as it pursues the strategy of working with category leaders, including NavInfo, a mapping service provider, and 58.com, a local listing platform.
"We are seeing the benefits of this approach, as evidenced in the successful listing of JD.com. Looking forward, we will continue to grow our platform, invest in areas such as online-to-offline business and content production, and enhance our user experience," he said.
The Shenzhen-based Tencent seems to have succeeded in integrating its social networking tools, such as mobile messaging tools mobile QQ and WeChat, with companies in which it invests, such as JD.com Inc, China's largest online direct sales platform.
Tencent, which has engaged in a buying spree along with e-commerce conglomerate Alibaba Group Holding Ltd since late last year, has made a lot of investments, including taking a 15 percent stake in JD.com in March.