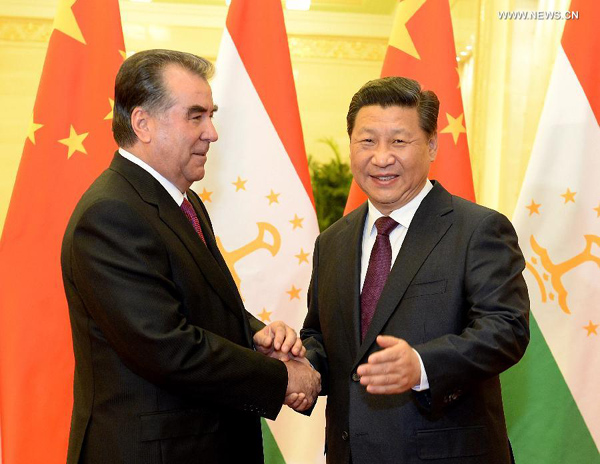 Chinese President Xi Jinping (R) shakes hands with his Tajik counterpart Emomali Rahmon during their talks at the Great Hall of the People in Beijing, capital of China, Nov 7, 2014. [Photo/Xinhua]
President calls for joint initiatives on transportation, energy and farming
China would like to work more closely with Tajikistan to assist its ambition to become a transport corridor for trade leading to countries in Central Asia and the Gulf region, President Xi Jinping said on Friday.
The two countries should press forward with opportunities for joint initiatives in fields such as energy, transportation and agriculture, Xi told his Tajik counterpart, Emomali Rahmon.
Rahmon was the first foreign leader to arrive in Beijing for discussions on strengthening relations to be held on Saturday. The talks will take place in the run-up to next week's APEC economic leaders' meeting in the capital.
Rahmon praised the talks, which Xi initiated, saying they were timely, during his third meeting with China's president this year. He added the Tajikistan's limited transportation infrastructure is the main obstacle to his country's economic development.
He said Tajikistan supports the construction of a Trans-Eurasian Silk Road Economic Belt, an initiative put forward by Xi, and the speeding up of infrastructure construction including cross-border railways.
Chen Yurong, a senior researcher at the China Institute of International Studies, said Tajikistan attaches great importance to developing its inefficient transportation system. Improved networks would enable it to play a greater role in the Eurasian region.
"This highlights Beijing's key diplomacy agenda of deepening ties with neighboring countries," Chen said.
After the leaders' meeting, the two countries signed seven agreements, including undertakings by China to assist with major projects in Tajikistan.
Rahmon said Tajikistan would work to ensure on-time completion of Line D of the China-Central Asia gas pipeline.
During Xi's visit to Tajikistan in September, the two leaders witnessed the start of work on the construction of the line, an important energy channel for the world's second-largest economy.
In another development on Friday, Xi met Cambodian Prime Minister Hun Sen, who will lead a delegation at Saturday's discussions.
Hun Sen said Cambodia hopes to benefit from the proposed Trans-Eurasian Silk Road Economic Belt and 21st Century Maritime Silk Road, as he believes they will boost his country's infrastructure and economic development.
China would like to work more closely with Cambodia in various fields including connectivity, agriculture, hydropower, special economic zones, education, medical care, telecommunications and tourism, said Xi.
China is the largest investor in Cambodia. Most Chinese projects there have so far focused on energy and infrastructure, and these are paving the way for the next stage of development, according to Suwatchai Songwanich, chief executive officer of Bangkok Bank (China).
The next phase will involve the expansion and modernization of Cambodia's manufacturing sector and its integration into the regional supply chain, Songwanich told Thailand's The Nation last month.