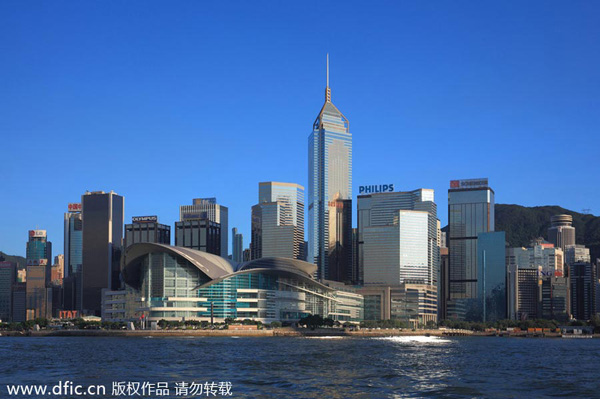 Hong Kong Convention and Exhibition Center (front), Hong Kong Central Plaza (tallest), and other skyscrapers and office buildings along the Hong Kong Island coastline are seen from Kowloon in Hong Kong, China. [Photo/IC]
Anticipated launch of trading program passes with no word on its fate, reports Xie Yu in Hong Kong.
The most notable equity market event on Monday in the mainland and Hong Kong was a launch that did not happen - the long-awaited start of the Shanghai-Hong Kong Stock Connect, which had been widely expected to begin.
That was not totally a surprise, market observers conceded, but it was still a letdown. And there has not been any official word from either side on what comes next.
The program will allow overseas investors to trade in selected A shares and mainland investors to trade in a group of Hong Kong-listed H shares.
It is not the best time to launch a project that holds so much promise, even though all necessary preparations for Stock Connect are complete, according to the stock exchange of Hong Kong's Chief Executive Officer Charles Li.
But brokers, investment bankers and investors are waiting for a resolution to the Occupy Central movement, which is overhanging the Hong Kong economic landscape.
Li simply said: "I cannot say if Occupy Central is a reason, or how much it is affecting the decision."
However, his words were widely taken by stock analysts as a sign that the central government is holding back on the "go" signal because of concern by mainland investors about the disturbances in Hong Kong.
"The central government is watching and weighing the situation in Hong Kong, and it will decide a proper date to kick off the program," said Jin Dehuan, a professor at the Shanghai University of Finance and Economics.
Tax issues or cross-border supervision could be other hindrances, but such factors need not be fully resolved before the start of the program, he added. At the same time, cancellation is not an option, because it would be a major setback for the mainland's capital market and a blow to the internationalization of the renminbi.
But even the delay was poorly received by investors, who have already been waiting for some seven years. The benchmark Shanghai Composite Index retreated 0.51 percent to 2,290.44 points on Monday, while Hong Kong's Hang Seng Index lost 0.7 percent.
The Shanghai index has fallen 4.1 percent from this year's high on Oct 9 as investors became convinced that the "through train" would not depart on time. Since then, stocks that were seen to gain most from the program have taken a beating.
CITIC Securities Co Ltd and Haitong Securities Co Ltd, the two biggest brokerages on the Chinese mainland, each slumped more than 2.7 percent in Shanghai and Hong Kong.
Hong Kong Stock Exchange and Clearing Ltd, which runs the Hong Kong exchange, tumbled 4.7 percent to HK$166.20 ($21.36).
Some individual investors are concerned about the impact of the protests and are reluctant to give their money to brokerages for southbound trading.
Industry insiders said that leading mainland fund managers such as China AMC Asset Management Co Ltd and China Southern Asset Management Co Ltd have developed Hang Seng Index-based exchange-traded funds for the Stock Connect program, but they are waiting for approval from the China Securities Regulatory Commission to launch those funds.