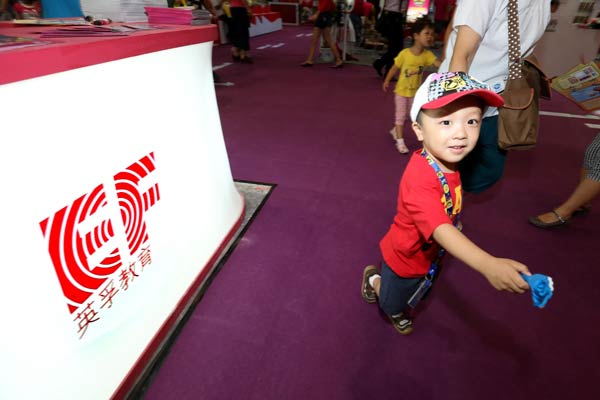 A booth of EF Education First at the China National Convention Center in Beijing attracts a lot of visitors at a recent education and culture exhibition. CHINA DAILY
English learners in China who want to test their language proficiency for free can now look to Switzerland-based English training organization EF Education First, which announced on Wednesday that it will offer a standardized English test it claims is the first of its kind.
After four years of research and development, EFSET, as the test is called, is designed to stand on par with such proficiency tests as TOEFL and IELTS. The test is being offered for free in order to "support ongoing tracking of a student's learning".
A 50-minute EFSET can be delivered online to a tablet or a desktop device. The online test will adjust its content in response to the individual candidate's language proficiency. The results will be saved when the test ends and can be accessed anytime with a user account and password.
EF said it has received inquiries from universities, companies and government departments.
At present, only reading and listening tests are included in the test. Measures of oral and writing proficiency are still being designed.
Deng Bo, a freelance English trainer based in Nanjing who has more than eight years of experience in the industry, said that regarding the current test content "I am afraid it will not be able to give a comprehensive evaluation of the learner's language proficiency". And, he noted, the results will not be accepted in all situations and will not meet all standards.
EF estimated that there are 2 billion English learners all over the world, but only a few million take existing standardized tests. Noticing this huge gap, Bill Fisher, CEO of EF China, said the new test is intended to meet "the massive untapped need among people not willing to pay $300 to $400 for a test".
Although Fisher said the company is not seeking a profit from this test at present, he added that it will ask students if they can be contacted for commercial reasons after the test.
Fisher said that he does not want people to interpret this as a "commercial gimmick", but he admits that this free test will be a more efficient way to reach more potential consumers in China.
According to the Ministry of Education, there were 300 million English learners in China last year, and the number of English-training organizations exceeded 50,000 with a total market value of 30 billion yuan ($4.88 billion).
According to Shenzhen-based market research consultancy CIConsulting, the English training market in China can be primarily divided into three categories: pre-test training for candidates sitting for the TOEFL, IELTS or National College Entrance Exam; industry English training intended for professionals and training for young learners, with the latter taking up 70 percent of the market.
The number of English learners taking the TOEFL exceeded 300,000 in China last year.
A record 2 million IELTS tests were taken around the world last year, up 11 percent year-on-year, with China showing sustained high demand and becoming one of the largest markets for this exam.