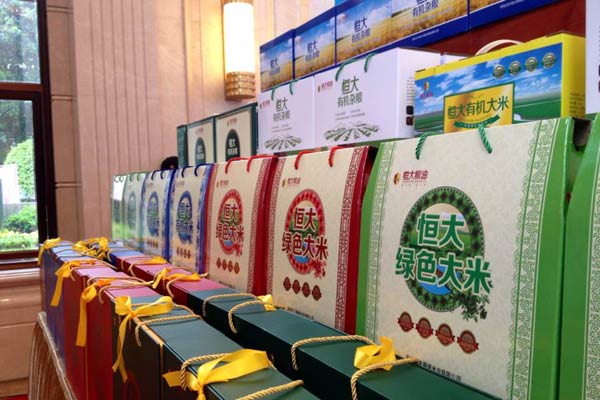 Evergrande Group, a Guangzhou-based real estate company, launched a series of grain products on Thursday to boost its business portfolios to sustain future development. [Photo by Qiu Quanlin/chinadaily.com.cn]
Dwindling profit margins prompt businesses to chart new strategies for development
Reducing reliance on home sales and diversifying offerings is not a new strategy for most of the property firms in China. But with sales falling rapidly and inventory pressures going up, most of the Chinese developers have started to speed up their diversification strategies with an eye on sustained, long-term growth, said industry experts.
In August, the Guangzhou-based real estate company Evergrande Group, already famous for owning a soccer team, established three subsidiaries for grain and oil products, dairy products and cattle farming. That marked a continuation of the diversification it had started in November, when it launched its first consumer product-bottled water.
A day after Evergrande's announcement, Dalian Wanda Group Co Ltd, another commercial property giant, said it was teaming up with Internet giant Tencent Holdings and leading search engine Baidu Inc to develop an offline-to-online e-commerce company.
China Vanke Co, the largest developer in China by sales, also upped the ante in August, when it said it would work with e-commerce giant Alibaba Group Holding Ltd to promote sales on the latter's Taobao market.
All these eye-catching developments show the developers' growing appetite to diversify their business portfolio, especially at a time when it is becoming increasingly difficult to boost revenue from homebuilding and home sales.
Yu Liang, president of China Vanke admitted that the "golden era" for China's property market has passed, while announcing the company's performance for the first six months of the year and indicated that the average home ownership in China has exceeded 1.1 units.
Vanke, however, is not performing badly. Even in the first six months of the year, when most of the other developers reported downturns, the company posted a double-digit growth both in floor space and value terms.
According to sources, it is the slower growth in net profit that has been a cause for concern. Such concerns heightened after Wang Shi, the founder and chairman of the company admitted that: "I am worried that Vanke would be the next to fall apart in a new age."